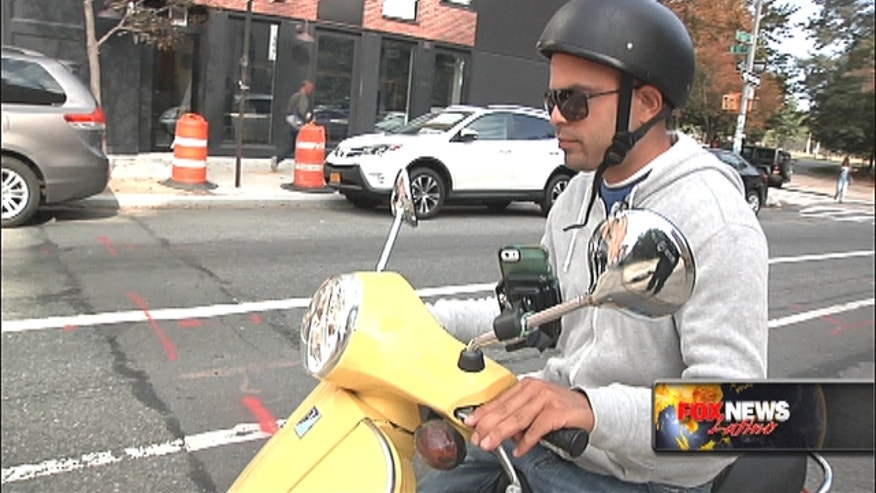 A new app is offering motor scooter rides throughout New York City, touting fares that are less than half the price of a taxi cab — guaranteed.
Motoconcho.nyc was started by Dustin Rodriguez, a Dominican-American, in July after riding on motorized scooters during his trips to the Dominican Republic, where "motoconchos" are one of the main means of transportation.
Motoconcho.nyc says they are committed to pick up clients in less than 15 minutes after the service is requested.
"With the traffic in downtown, midtown, is the best way to get around, the best way," Rodriguez said.
Thus far the company only has three drivers, all on Vespas, but it hopes to expand soon.
Riders have to wear a helmet, and for those who feel a little weird about using a borrowed helmet, the company offers free disposable shower caps to protect your hair.
"Like the ones they use in the hotels," he said. "Some people would think there are germs or hair from other people or something like that."
Either way, don't expect the Vespas to be on the road during the winter time, since they most likely will be closing for December, January and February.
For those hesitant about zipping through New York City traffic on a Vespa, Rodriguez says, "No way, as long as you hold on you're fine and you're safe."
Watch the video above for more on this new venture.
Like us on Facebook

Follow us on Twitter
& Instagram