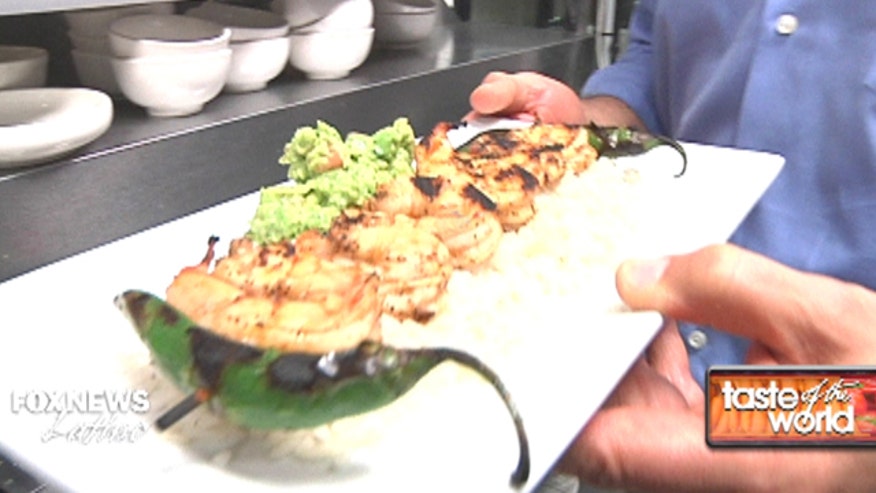 This Labor Day weekend treat yourself and your family with this delicious recipe created by Chef Roberto Santibañez of Fonda Restaurants in New York City.
Ingredients:
For the Tabasco Chipotle marinade:
2 garlic cloves
1 teaspoon dried oregano
1/4 teaspoon ground black pepper
1/2 teaspoon salt
2 tablespoons Tabasco Chipotle Sauce, plus more once plated
2 teaspoons lime juice
1 teaspoon Worcestershire sauce
1 tablespoon olive oil

For the skewers:
24 large shrimp, peeled and veined (1 lb approximately)
8 Serrano peppers
4 skewers, 10 inches long

For serving:
White rice
Guacamole
Fruit salad

Preparation:
For the Tabasco Chipotle marinade:
Using a mortar, crush garlic oregano, black pepper and salt together until it forms a paste; transfer to a bowl. Add Tabasco Chipotle Sauce, lime juice, Worcestershire sauce, and olive oil.

For the skewers:
Combine the marinade and shrimp; mix to coat completely and let sit for 20 minutes. Begin to prepare the rice, guacamole and fruit salad.

Soak the skewers in water for 20 minutes if bamboo. Assemble each skewer with one Serrano pepper, followed by 6 shrimps and end with a second Serrano pepper. Season with salt, to taste.

Preheat grill. Grill skewers 2 minutes per side until shrimp is cooked through. Drizzle skewers with additional Tabasco Chipotle Sauce and serve with white rice, guacamole and a fruit salad.
Makes 4 servings.
Like us on Facebook
Follow us on Twitter & Instagram