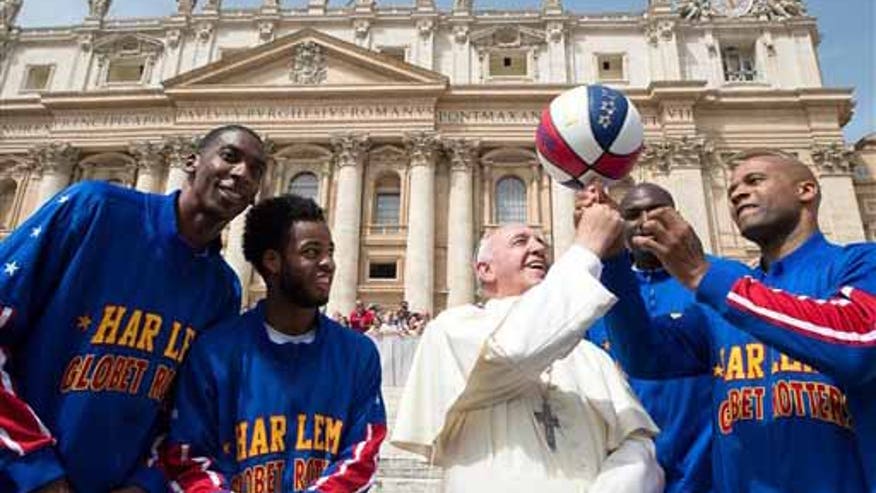 It's not every day you see the leader of the Catholic Church spinning a basketball on his finger.
But there was Pope Francis on Wednesday, pulling off some trick moves in St. Peter's Square on Wednesday.
He had great instructors: The Harlem Globetrotters.
The basketball troupe met with the pope during his weekly general audience.
They presented a framed No. 90 jersey backed with "Pope Francis," and encouraged him to play with them.
With teammates Hi-Lite Bruton, Ant Atkinson, and Big Easy Lofton looking on, Flight Time Lang got a red, white, and blue ball spinning on his own finger, then took the pope's right index finger and let a smiling Francis try it himself.
Pope Francis was also named an honorary Globetrotter, the ninth person to receive the distinction. The others "honorary Globetrotters" include Pope John Paul II, former Secretary of State Henry Kissinger and comedians Whoopie Goldberg and Bob Hope.
"We are very humbled by the opportunity to bestow this honor upon Pope Francis," Globetrotters president Kurt Schneider said in a statement. "His tireless work for the well-being of the poor and elderly, his humanitarian efforts and his commitment to bridge gaps between people of various cultures are ways the Harlem Globetrotters also aspire to touch lives around the world. He embodies the Globetrotters' efforts to provide service, smiles and sportsmanship globally."
The Globetrotters are touring Italy.
Includes reporting by The Associated Press.
Like us on Facebook
Follow us on Twitter & Instagram