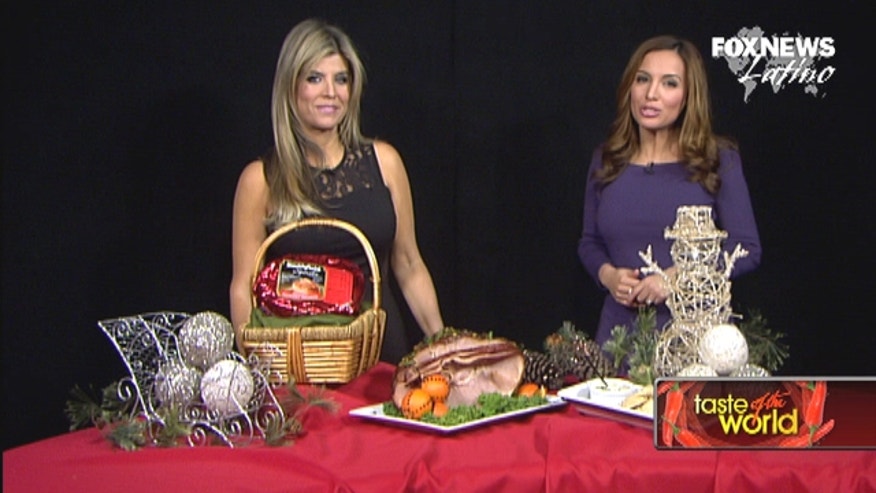 The holidays are finally here, which means we need to start thinking about how to prepare ourselves for all those get-togethers that we'll be hosting with our friends and families. With so many things to do and so many people to please, it can sometimes get a little stressful, but there's no need to panic! Chef and "Miami Housewife" Ana Quincoces is giving us some tips on how to entertain your guests and make the perfect holiday menu.
Ana's Stress-Free Tips: Don't Forget the Bacon!

1. Prepare ahead! Plan your holiday menu in advance and serve high quality ingredients to make sure what you prepare will taste great. I like serving the Smithfield Spiral Sliced Ham for it's consistent signature flavor that everyone loves.
2. Take the guesswork out of your meal by keeping the recipes simple! This ham, for example, makes cooking a breeze: just pop it in the oven, glaze and serve — allowing you to spend more time enjoying the party and less time in the kitchen, something we all can appreciate!
3. To help save on time, mix store-bought items with homemade dishes. Serve a Spiral Sliced Ham as your holiday centerpiece and pair it with pre-made biscuits, roasted potatoes and green beans.
4. There are so many different foods out there that you can wrap in bacon: dates, plantains, jalapeños … everything tastes better with bacon! People love the savory and sweet combination these appetizers provide — they're always a crowd pleaser. Also, if you add dipping sauces to accompany these bites, it will make the appetizers even more special and your guests can personalize the flavors.
5. Perfect for a big holiday gathering: Create a sandwich bar with spiral ham, rolls, mustards, cheeses, pickles, etc. Guests love the "do it yourself" feel these theme "bars" offer because they can make it to their liking.

For Starters: Ham and Chorizo Empanadas with Cilantro-Ranch Dipping Sauce

Ingredients:
Makes 20 medium or 40 appetizer-sized empanadas
• 2 tablespoons olive oil
• 1 garlic clove, minced
• 1/4 cup diced onion
• 1/4 cup diced green or red bell pepper
• 1/2 cup tomato sauce
• 1/4 cup vino seco (dry white cooking wine)
• 1/4 teaspoon pepper
• 1/2 pound ground Spanish chorizo sausage
• 1 package Anytime Smithfield Brand chopped ham or 1 (8oz) Smithfield boneless ham steak
• Salt to taste
• 20 "discos para empanadas" (frozen turnover pastry disks), thawed and kept in the refrigerator
• Canola oil, for shallow frying

Ingredients for dipping sauce:
• 1 cup thick, refrigerated ranch dressing (I like Marie's)
• 1 to 2 tablespoons hot sauce (like Tabasco)
• 1/4 cup finely chopped cilantro

Preparation:
• Chop ham steak into small pieces or use the chopped ham. Place in a food processor and pulse several times until it resembles ground beef.
• Heat the olive oil in a shallow pot over medium-high heat. Add the garlic, onion and bell pepper; sauté for 5 to 7 minutes, until soft. Add the tomato sauce, vino seco and pepper; cook for 5 to 7 minutes, stirring frequently. Add the chorizo and ham and continue cooking for an additional 5 minutes, stirring frequently. Turn the heat off and allow the mixture to cool to room temperature. Taste and add salt, if necessary.
• Remove one package of the pastry disks from the refrigerator. (Always leave the ones you aren't working with in the refrigerator. They are easier to work with if they are firm.) Working on a lightly floured surface, separate the disks. If you are making appetizer-sized empanadas, cut each disk in half, creating two semicircles. If you are making the larger empanadas, leave the disks whole.
• Place 1 to 1 1/2 teaspoons of filling in the center of each half disk or 1 to 1 1/2 tablespoons in the center of each whole disk. Fold each half disk to make a small triangle or each whole disk to make a semicircle. Using the tines of a fork, press around the edges to seal.
• If you do not plan to fry the empanadas immediately, cover them with a damp towel or place them in an airtight container and refrigerate them for up to 5 days.
• Heat the oil in a deep pan to 350°F over medium heat. If you do not own an oil thermometer, dip the corner of one of the empanadas in the oil to check if it is hot enough. The oil should bubble around the dough.
• Add the empanadas, about 4 to 5 at a time, to the oil and fry them for 3 to 4 minutes, turning them once, until they are golden brown. Transfer to a paper towel–lined plate and continue frying the rest of the empanadas.
• To make the dipping sauce, combine the ranch dressing and hot sauce in a bowl and garnish with the cilantro. Serve in a small bowl alongside the hot empanadas.
Main Course: Spiral Sliced Ham with Marbella Sauce

Ingredients:
• 1 Smithfield Spiral Sliced Ham
• Packet of Honey Glaze included with Smithfield Spiral Sliced Ham
• 6 cloves of garlic finely minced
• 2 T dried oregano
• Salt and freshly ground black pepper to taste
• 1/4 cup red wine vinegar
• 1/3 cup olive oil
• 1 cup pitted prunes roughly chopped
• 1/2 cup pitted Spanish green olives roughly
• 1/2 cup capers with a bit of juice
• 6 bay leaves
• 3/4 cup dark brown sugar
• 3/4 cup dry white wine
• 1/4 cup Italian parsley, finely chopped

Preparation:
• Preheat oven to 350 degrees.
• In a large bowl combine garlic, oregano, pepper and coarse salt to taste, vinegar, olive oil, prunes, olives, capers and juice, and bay leaves. Pour over ham and allow to marinate refrigerated for 4 to 6 hours or overnight.
• Remove ham from marinade (DO NOT DISCARD MARINADE). Place ham in a large roasting pan. Combine marinade with the brown sugar and honey packet (included) and baste the ham evenly with this mixture. Pour the wine around the ham and marinade.
• Bake for 1 hour and 30 minutes basting frequently with pan juices. Place sliced ham on a large serving platter topping with capers, olives, and prunes. Pour a bit of the pan juices over and sprinkle generously with parsley. Serve hot or warm with roasted or mashed sweet potatoes and additional pan drippings on the side.

Like us on Facebook
Follow us on Twitter & Instagram