For most fashion designers, getting your gowns onto Hollywood actresses fuels sales.
For a while, at least.
And the late Dominican-born fashion designer Oscar de la Renta certainly got his share of glamorous stars and flash-in-the-pan starlets walking the red carpet in his 50 years in the business.
But for a designer there is no greater measure of a designer's acceptance and proximity to power than the number of first ladies who have graced White House events and state visits and inaugural balls in his or her clothes. And in that, de la Renta was unmatched among American designers.
He has designed gowns and skirts and suits for every first lady since Jackie Kennedy (later Onassis), whose appreciation for his work helped make him famous.
Of course, when most people think of Jackie O, they think Chanel suits, and de la Renta admitted to the Daily Telegraph last year that she did have a strong preference for French fashion. "They changed the labels to Oleg Cassini so it looked as though she was supporting American design," he said.
Laura Bush and Hillary Rodham Clinton—as far apart as they may be on the political spectrum—are both enthusiastic boosters of his work and both wore gowns he designed to their husband's second inaugural balls.
In fact, it may be most telling how many Presidential daughters have gotten married in de la Renta gowns—at least two, Caroline Kennedy and Jenna Bush. (Chelsea Clinton wore Vera Wang.)
"We will miss Oscar's generous and warm personality, his charm, and his wonderful talents," Laura Bush said in a statement. "We will always remember him as the man who made women look and feel beautiful."
The entire Clinton family also issued a statement that read, "Oscar's remarkable eye was matched only by his generous heart. His legacy of philanthropy extended from children in his home country who now have access to education and health care, to some of New York's finest artists whose creativity has been sustained through his support."
Of all the first ladies, seemingly the most reluctant to don his duds was Michelle Obama, who in 2011 was criticized by de la Renta as well as Diane von Furstenberg for not wearing an American-designed gown to a state dinner.
It was further speculated that a certain amount of distancing from the previous two First Lady administrations might be part of the reason.
This month, however, she relented and wore a floral de la Renta dress to a cocktail party after her White House Fashion Education Workshop on Oct. 8.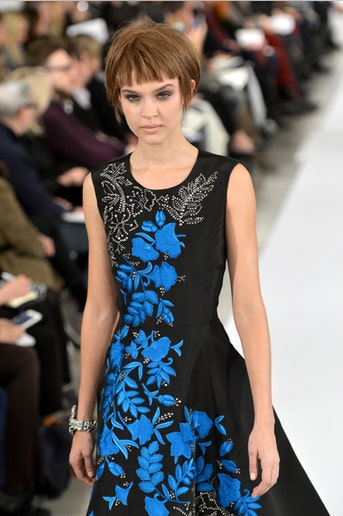 The Oscar de la Renta dress Michelle Obama wore.
As the New York Times noted, "By appearing in his dress, she effectively represented the house, thus acknowledging its place in American fashion and also demonstrating directly to industry insiders that whatever they might have thought was going on there was – well, not going on any more."
Follow us on twitter.com/foxnewslatino
Like us at facebook.com/foxnewslatino