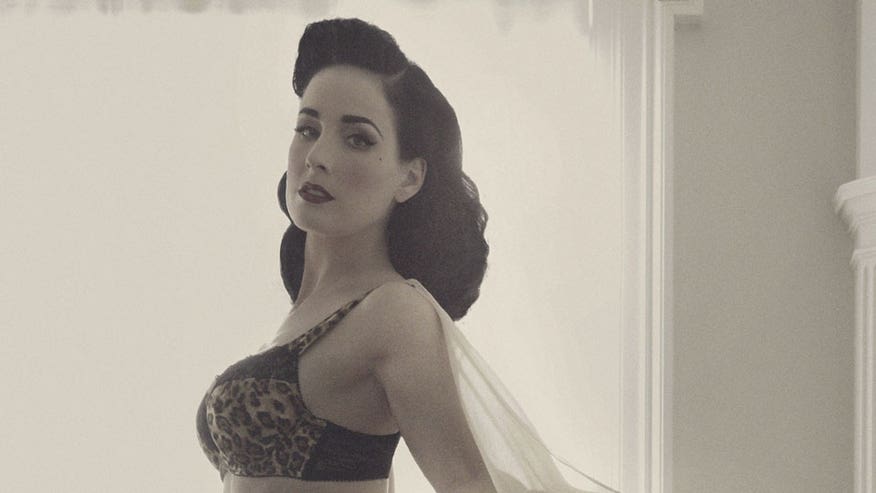 Dita Von Teese is a woman of many roles: burlesque star, modern-day pin-up, perfume creator, and now lingerie designer — specifically for new mothers.
While many women may not feel at their sexiest after birth, the 42-year-old striptease entertainer wants to give her fans a boost of confidence, which prompted Von Follies, a maternity lingerie collection launched last month featuring lacy nursing bras and vintage-inspired post-partum shapers.
"I've heard of the dilemma that my friends have faced in trying to find bras during the breast-feeding phase of motherhood," explains Von Teese to Elle Magazine. "My lingerie lines — even before the maternity bras — are not about seducing men or even being sexy. It's about bringing beauty and luxury to your everyday life, and not storing it on the shelf or putting it on for a man. My relationship with lingerie has always been about self-seduction and what makes you feel good."
The raven-haired beauty insists her collection is so comfortable, she even models them herself.
"I love wearing fuller briefs," says Von Teese. "I actually have all the maternity underwear in my own drawer. It's something that makes me feel good about myself — moreso than wearing a tiny little G-string. I always put full briefs in my regular lingerie line, so it was easy to adapt them for the new moms line."
Could Von Teese's latest collection inspire her to take on another new role, too? Possibly.
"It's definitely been something that's on my mind," she tells the fashion publication on motherhood. "It's one of the things that came up in my life; I've been thinking about it a lot since I created this line."
Von Follies, which ranges from $30 to $55, can be purchased at Destination Maternity.