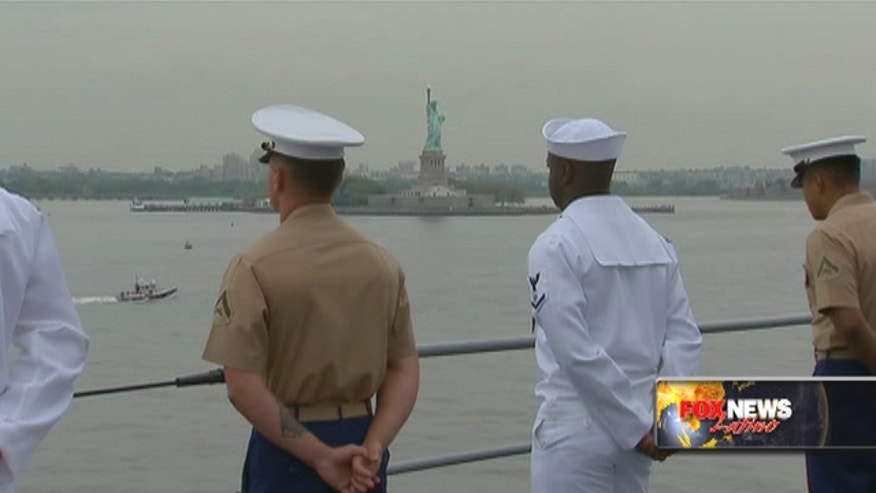 Fleet Week has returned to New York City after a year's absence. Three Navy ships and two Coast Guard cutters arrived in New York Harbor on Wednesday morning, giving U.S. Marines and sailors a chance to enjoy the Big Apple and to share their stories.
Fleet Week runs through May 27 and includes ship tours, parades and aerial demonstrations. Almost 1,500 service members are participating in the events this year.
The annual celebration of America's sea services wasn't held last year because of federal budget cuts that hampered spending by the U.S. Navy. The event costs the Navy several million dollars for docking fees, fuel, security, hotel rooms and transporting large ships and aircraft.
But if you ask the sailors, the opportunity is well worth the money and a chance for some of the 48,700 Hispanic men and women who serve in the U.S. Navy to interact with civilians.
"It's a great time to share our story," Chief Master-at-Arms Waldemar Zapata said. "We love it."
Originally from Cabo Rojo in Puerto Rico, Zapata has served in the U.S. Navy for 24 years and is now onboard the USS Oak Hill. "We encounter people from all over the world. Tourists from Russia, Turkey, they just want to take pictures. They want to know what we do. It's great."
Zapata's love for the Navy grew out of his fondness for ships that frequently cruised by his community in Puerto Rico. The father of four sons is a non-lethal weapons instructor who teaches sailors how to respond to situations that involve security.
"I'm like the sheriff, basically," Zapata said of his role onboard the U.S.S. Oak Hill.
Alberto Beltrán, an Electrician's Mate First Class, couldn't agree more with the importance of Fleet Week.
"Everybody wants selfies," Beltrán joked of all the people who have stopped him on the street during his time in New York City. "They want to hear what we do, they want to hear how's life on the ship. They want to know what we do on the ship."
Beltrán moved from Bogotá, Colombia to the U.S. in 2005. He is an electrician onboard the U.S.S. Oak Hill and is working toward an associate in science degree at Tidewater Community College in Virginia.
Both Zapata and Beltrán have won their fair share of military awards, more than 14 combined for their work in the Navy. But if you ask Zapata, a 24-year veteran of the service, there are plenty of young Latino servicemen and women who are doing great work for their country.
"The devotion to serve is always there," Zapata explained. "You see it from the young Latinos coming in, from wherever they are from, they left home and wanted to do something new."
The Associated Press contributed to this report.