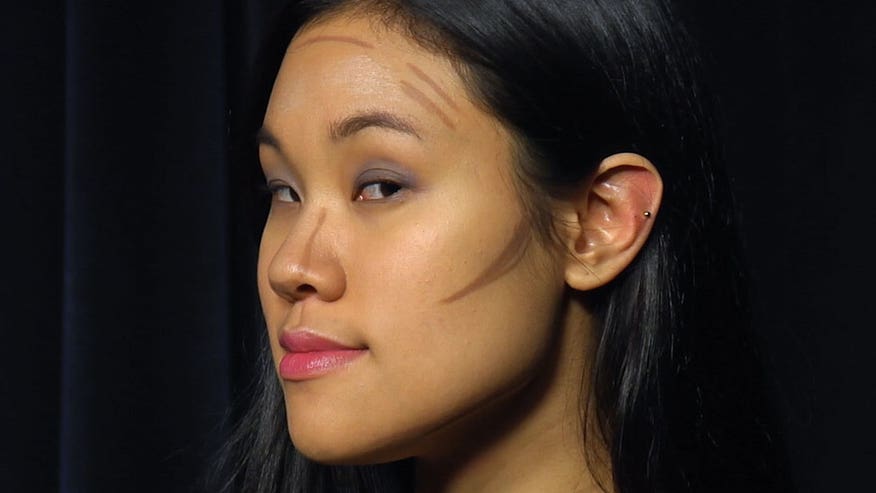 When it comes to walking down the red carpet, celebs always look picture-perfect.
What's their secret?
Kim Kardashian, Adele, Blake Lively, and more make the most of "contouring," a makeup technique that blends light and dark makeup to instantly lift anyone's face.
The idea is to "push back" areas of the face, using dark makeup and bringing forward areas using a highlighter.
While this technique is fairly advanced, professional makeup artist Lauren Cosenza shows us how to get a flawless, sculpted look in five easy steps.
Watch the video above to get the look.
Step 1: Map out the face. Lauren uses a creamy eye pencil, darker than Jessica's natural skin tone, under her cheekbones, jawline, hairline, temples, sides of the nose, and under.
Step 2: Highlight. Using hightligther, Lauren appiles highlighter at the center of Jessica's forehead, bridge of the nose, cupid's bow, center of the chin, and the top of the cheekbone. You can use a matte finish, but in order to bring these areas "forward" the product must be lighter than your natural skintone.
Step 3: Blend. Lauren unifies the light and dark areas by blending them together with a foundation that matches Jessica's skintone.
Step 4: Intensify. While the product is still wet, now is the time to layer. If you want an intensified contoured look, apply more dark pencil or powder and blend. Just be sure the dark cosmetics have a matte finish.
Step 5: Blush. Blush is applied directly between the depth of the contour and the high point of the highlight on the cheeks.