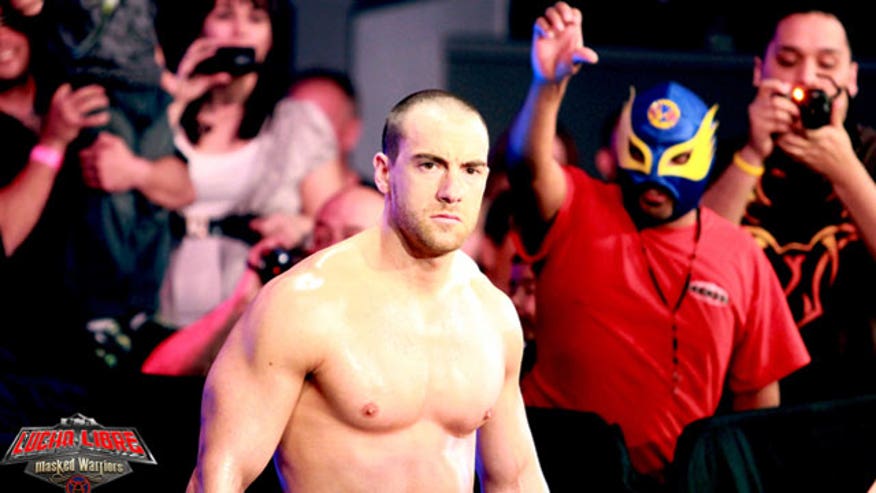 U.S. promoters of lucha libre — a style of professional wrestling popular in Mexican culture — and its most controversial anti-illegal immigration character, "RJ Brewer," are asking wrestling fans and companies to sponsor the construction of a border fence on private land in Arizona.
In a brazen and ironic publicity stunt, a sports entertainment form dedicated to a majority Mexican fan base is asking the American public to help Lucha Libre USA build a border fence in Arizona to keep undocumented immigrants out of the country.
Those who donate to the cause will receive a lock to be placed on the border fence and a key in the mail. Companies can also buy advertising space on the fence once it is completed.
Lucha Libre USA, and Brewer, the fictional son of Arizona Governor Jan Brewer — known for her hawkish stance on immigration — whose real name is John Stagikas, will launch the Indiegogo.com campaign on Sept. 16. A plot of land has not yet been chosen.
"We are going to ask for donations and support from the American people and we are going build our own fences," Stagikas, 34, told Fox News Latino. "Both sides, Republicans and Democrats, in my opinion, have sold the American people out for the Latino vote…border security is clearly not their priority."
The stunt is perhaps the most bold promotion by Lucha Libre USA since the pro-wrestling tour gained national attention in 2012 for targeting Mexican immigrant and Mexican American markets with characters and story lines centered on the nation's heated immigration debate.
Stagikas' RJ Brewer character is the American villain who rails against Mexicans in the ring in front of a largely Mexican fan base. The wrestler carries an Arizona flag and battles traditional masked Mexican luchadores while hurling insults against "illegals' and 'Mexicans."
Stagikas even wears tights with "SB1070" printed on his backside — a reference to Arizona's controversial immigration law, staunchly defended by Gov. Brewer. He said undocumented immigrants are to blame for taking American jobs, bankrupting America's healthcare system and filling up America's jails.
He was booed by Mexican-American audiences while on tour last year in California, Texas, and New Mexico. But he remains Lucha Libre USA's biggest star and top attendance draw.
"Ironically enough, I'm a villain in my own country," Stagikas said. "I'm an American and I'm getting booed out the building in my own country. That shows you how strong the Latino market has become."
But as fictional as RJ Brewer may be, Stagikas, a Boston native, told Fox News Latino the character's sentiments are true to life for him.
Stagikas said he wholeheartedly believes in the tough immigration law message his character sends. He has friends who have lost jobs on the border because of the immigration issue, he lamented.
"In pro wrestling it's theatre, it's acrobatics, it is a spectacle you need to turn up your volume, turn up your views for the camera," he said. "But my general message of immigration is really how I feel."
Follow us on twitter.com/foxnewslatino
Like us at facebook.com/foxnewslatino
Bryan Llenas currently serves as a New York-based correspondent for Fox News Channel (FNC). Click here for more information on Bryan Llenas. Follow him on Twitter @BryanLlenas.