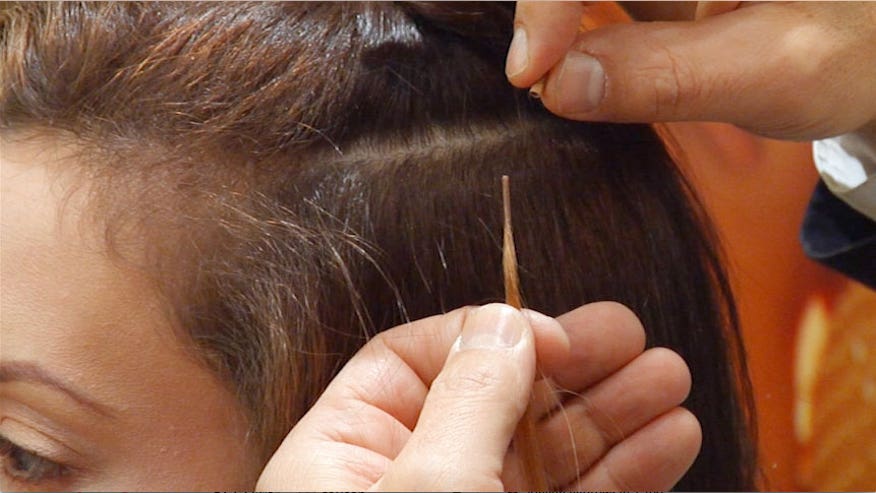 Hair extensions are a stylish option that can turn drab hair into fab hair.
"Long hair seems to be everywhere you look lately," says Los Angeles-based celebrity stylist Julia Papworth. "Styles such as and intricate are incredibly popular, and you really need long hair to pull them off."
Adding length can also take years off your overall look, says Kacey Welch, the in-house hair extensions expert at salon Jonathan & George in Beverly Hills.
Interested in getting enhanced? Before you hop into the salon chair, New York City-stylist and extension specialist Angelo David suggests taking note of your lifestyle before determining if this popular look is right for you.
"Whenever I do extension consultations, I get to know who my clients are more than just the look they want to achieve," he explains. "I ask about their likes, dislikes and hobbies, then selecting the type of extension that will work for them. But come to the salon prepared. Bring tear sheets of the look you want to achieve and tell your stylist what you want."
Extensions, depending on how long they are, require plenty of patience for each piece to be individually applied. They can be taped on, individually bonded with plastic or metal, glued, or even clipped on for those last-minute occasions. But depending on how many you get, the type being used and the quality of the hair, expect to invest.
"Russian virgin hair can cost over $2,000 for the hair alone," says Welch. "That does not include the service price, which is typically between $400-800."
That's not the only price tag clients will be looking at.
"Your maintenance is going to be more than the care you give to all natural hair," warns stylist Ray Salazar of Nelson J Salon in Beverly Hills. "Although extensions today are easier to apply and maintain in hair, if they are not properly taken care of, you are more likely to weaken your own hair and scalp around the area they are placed."
Some extensions, such as those glued or taped in, are faster to apply and provide the client more control on how to style daily, but their weight on the scalp can also thin out your natural locks.
But when it comes to getting touchable tresses, are extensions worth the investment? Experts say yes, because like the little black dress, long hair never goes out of style. The key to enhancing your own hair without experiencing the potential drawbacks is developing a close bond with your stylist and selecting the best type made just for you.
"Extensions will always allow you to have any desired look without sacrificing your natural hair," says Sade Williams, senior stylist and extension specialist at Ted Gibson in New York City. "For the woman that impatiently wants to achieve long locks, extensions can serve as 'buying time' for hair growth."