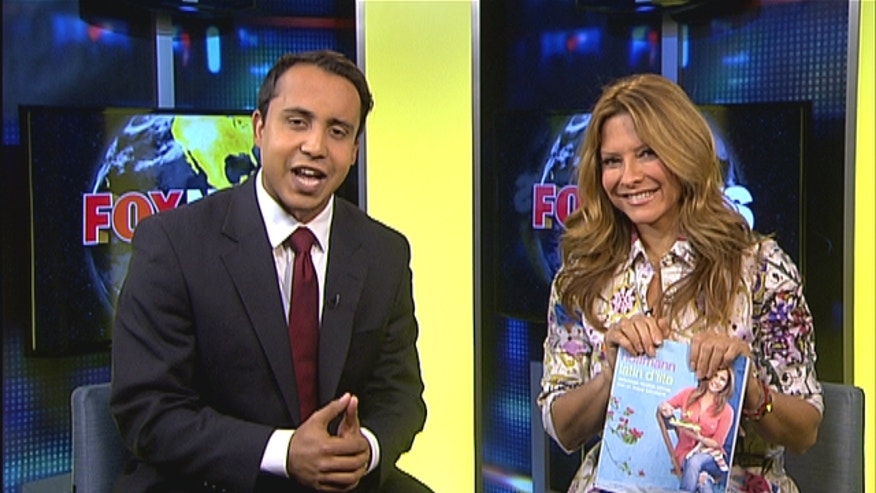 Watch the video interview above and an example of Ingrid Hoffmann cooking one of her salads.
In her fourth book 'latin d'lite' international chef TV star Ingrid Hoffmann is putting the simple in simply delicioso with a new set of new recipes that aim to make classic Latin dishes with a healthy twist.
"This is how I eat at home," Hoffmann told Fox News Latino. "This is really about eating natural."
Hoffmann, the host of simply delicioso on the Food Network and the delicioso on Univision, shares over 150 recipes that are "smart," "cleaner," and more "balanced."
"This day and age to maintain your shape is really hard," Hoffmann said. "But eventually it gets easier once you get the hang of it."
Hoffmann set out looking for recipes that wouldn't take longer than 30 minutes in the kitchen as a way to help fit "smart" eating into today's hectic modern family lifestyle.
"I'm not telling you to cook as long as your grandmother did," she explained, that it's about eating cleaner and in balance.
It's all about the ingredients, just ask Fox's Geraldo Rivera and Maria Molina who helped Hoffmann put together a home-made Adobo Grilled Chicken Salad with home made whole-wheat or multigrain tortillas.
"Once you start realizing that the food tastes just as good without all the crap, but it's got all the healthy things in it," she said readers realize extra calories are not needed.
Hoffmann says Latino dishes have become mainstream, but the modernized world gives culinary amateurs a way
Tostones, fried plantains, I don't fry them, I shave them and I make them," she showed on Friday's FOX & Friends show with Rivera and Molina.
Oh and diets don't work, she said.
Some extra tips?
If you're going to cook - cook double, schedule one kitchen visit to cook food for more than one night.
Reward yourself for following sticking to a regimen and for following the recipe book - grab a drink in the Happy Endings chapter which offers readers healthy cocktail choices like Mexican sangria, the amado whisky, and the capirinha rosada.
Adobo Grilled Chicken Salad
4 boneless,skinless chicken breasts
1 tablespoon Adobo Seasoning
Canola oil cooking spray
4 10-inch whole-wheat or multigrain tortillas
2 tablespoons olive oil
1/2 medium, yellow onion, chopped
4 garlic cloves, minced
Kosher salt
Freshly ground black pepper
3 medium tomatoes
1/2 cup water
2 chipotle chiles in adobo, chopped
1 15 ounce can pinto beans
Follow us on twitter.com/foxnewslatino
Like us at facebook.com/foxnewslatino