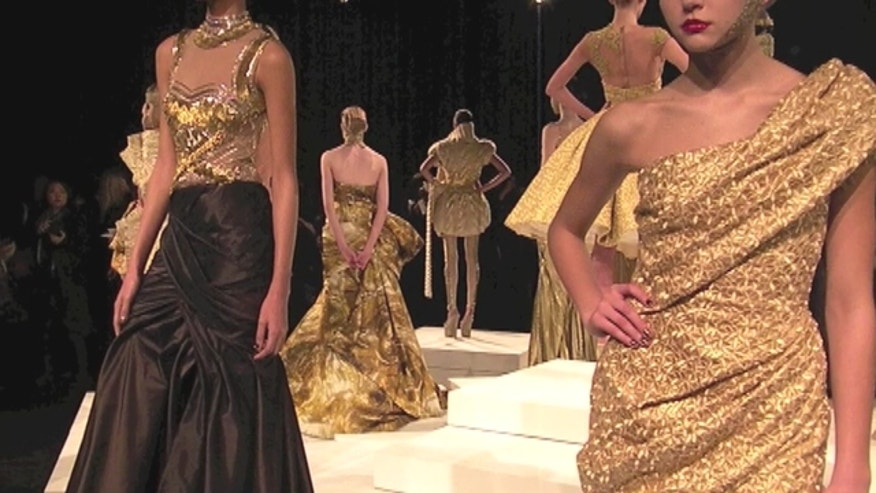 Mercedes-Benz Fashion Week Fall 2013 offered an explosion of design inspirations this year. Spanning the globe from Spain to Peru, Uruguay to Argentina, Venezuela to Mexico, and the Dominican Republic, Latino designers brought the heat.
From freaky television collaborations, to sometimes-tragic themes and gilded gowns, the Latin American designers made a huge impact – incorporating traditions and cultures into their designs and ultimately putting new countries on the fashion map.
Of the 130 designers presenting at New York Fashion Week, nine of them were Latino – one of the largest numbers in the history of the event.
While many Latinos present their shows off-site, away from Lincoln Center, where up-and-coming designers can show their wares, but only the best are included and sponsored by Mercedez-Benz and IMG.
Ricardo Seco was born in Torreon, Mexico. A self-taught designer, Seco worked as a businessman for 12 years before changing his career to fashion. Until recently, Seco worked as the creative director with Converse, bringing his unique designs to the iconic Chuck Taylor sneakers.
His fall 2013 collection, entitled "Alive," was inspired by his new Williamsburg digs and its multi-cultural landscape. He offered sketches showing a lot of black with a keen eye on the orthodox Jewish community (Williamburg has a large Hasidic community). Seco says he used layers of fabric, incorporating leathers, cashmere, cotton, and cool menswear bags—a mix of sportswear with suiting.
Relative unknown Dominican and Parson's grad, Hernan Lander, presented a beautiful collection of women's clothing. Edgy leathers and vibrant silk prints, Lander brought his unique perspective to Lincoln Center for the first time. Inspired by the earthquake in Haiti in 2010 and the death of his grandfather, Lander chose somewhat muted colors for his recent collection. In roses, beiges, blacks, and browns, his sadness is palpable—even in his one all hand-sewn leather dress.
Par for the course, Venezuelan icon Carolina Herrera brought distinguished elegance and sophistication to the runway this year as she has for more than 30 years. Showing embellished gowns and flowing silk dresses in honey to blue, cranberry to vibrant red, bringing glamour and femininity to the runway as only Herrera can.
New York born, but of Italian and Spanish heritage, designer Carmen Marc Valvo has dressed everyone from Katie Couric to Beyonce to the HRH Princess Madeleine of Sweden. Starting his career designing for Nina Ricci in Paris and a brief stint with Christian Dior, in 1998 Valvo launched his own line. His fall 2013 collection this year showed a rock 'n' roll, dark, gothic line inspired by Edgar Allen Poe. He offered 30 pieces from his signature evening gowns to separates, cocktail dresses, and outerwear.
Collaborating with H.H. Brown Shoe Co., Valvo also designed the super-high heels worn by the models—including a pointy-pump, a double-strapped Mary Jane style, and a mesh-bootie.
Candela Designer Gabriela Perezutti lives in New York City but her identity is deeply rooted in her Uruguayan ranch upbringing. Her family lineage can be traced back over 200 years to her native country located between Argentina and Brazil.
Her fall, ready-to-wear line was a mix of supremely feminine dresses, shorts, and tops with edgy rocker accents, complimented with girl knee socks, and school-girl-style flat shoes—something I'm sure every woman will be happy to sport.
One of the hottest designers, and one who's been around for almost 23 years, is Cesar Galindo. In addition to designing his own signature collection, he has also worked as a contract designer for private clients such as Joan Jett, Courtney Cox, Madonna, and for established labels including L.A.M.B. by Gwen Stefani, Dolce & Gabbana (where he designed predominately for celebrities for nine years), and later for the Calvin Klein Collection under the design direction of Francisco Costa.
Beginning his career designing costumes for the Miami ballet, and then the Houston Opera in his hometown, Galindo launched his secondary line CZAR in 2011.
This season, he kicked his collection off with a bang and the collaboration of AMC. AMC officials hooked up with Galindo, after discovering the theme of his collection entitled "Suspended Life," a line the designer says is inspired by Superstorm Sandy.
"When it comes to being a Latino designer, we have a great history and tradition," said Gabriela Perezutti, the designer for Candela. "Latino designers are growing in numbers because we're growing our presence in the U.S."
Perezutti said fashion is a great vehicle for people to express their identities.
"I feel it's been an advantage to be Latino, it's something that sets me apart from other designers," he said. "But, in the end, you have to have something that people want to buy."
Rebekah Sager is a writer and editor for FoxNews.com. She can be reached at rebekah.sager@foxnews.com. Follow her on Twitter @rebekah_sager.