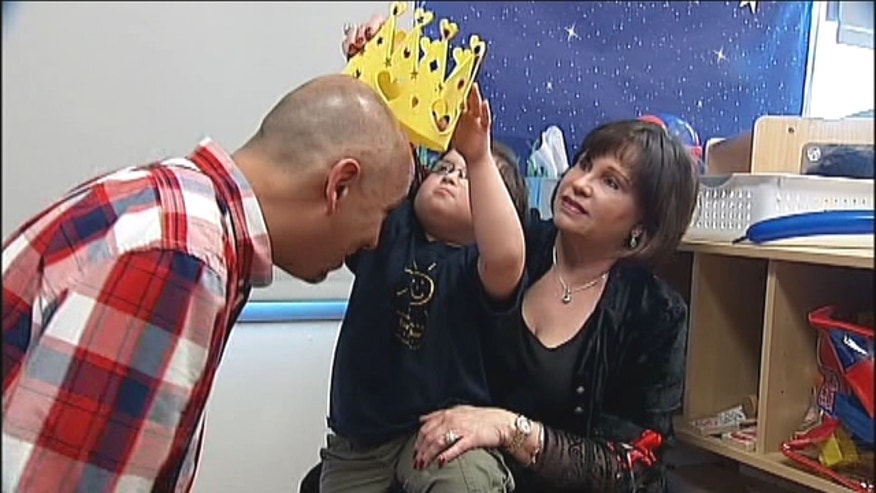 HOUSTON – A Houston waiter made national news when he risked losing his job to stand up for a young boy with Down syndrome. On Friday, the 5-year-old gathered a few friends to say "thank you."
The roar of the crowd was a welcome fit for a rock star when Michael Garcia walked into The Rise School of Houston.
"The moment I walked into this room and saw these posters I just lost it. I knew I would," says Garcia. It was tough to find a dry face in the place, as kids at the school put on a performance for Garcia. The waiter got all that gratitude and attention after what he did when he overheard one of his customers at Laurenzo's Prime Rib Restaurant make an "ugly" comment.
A man, his wife and two kids were seated at a table next to 5-year-old Milo Castillo and his family; a few moments later the other family asked to be moved away. Garcia says he then heard the man say "Special needs children need to be special somewhere else".
"I just told him I wasn't going to be able to serve him and he said if you're not going to be able to serve us then we're going to leave," explains Garcia.
"I'm amazingly thankful. I mean it's great," says Milo's mom Kim Castillo. When the folks at Milo's school got word of Garcia's courage and kindness, they invited him over to tell them how much he's appreciated. "Thank you. Thank you from the bottom of our heart. You are our hero," said the school's executive director, Jan Stailey.
"Hero is a small word for Michael," Tracey Wyatt, whose son is Milo's schoolmate, said with tears in her eyes.
Everyone in town seems to be talking about how Garcia has such a big heart and he's not afraid to use it. He says he gets that from his mother.
"What's right is right. I've changed my life tremendously and I feel like my mother is living through me. May she rest in peace. People should stand up for others and go with their gut feeling instead of being afraid of repercussions and who might not like it," says Garcia.
Now there's apparently one more Mike we can all strive to be like.
"He is a role model for the world. If we all could emulate what he did I think that would make the world a much better place," adds Stailey.
"I haven't always liked who I was and always thought I had to be someone else to please others. But, you know what, that's a lot of work and that's just not fun. Be who you are no matter what," says Garcia.
Garcia has been getting calls at the restaurant from all over the world from people saying 'thank you.' He says he realized just how big his story has become when a woman from Australia telephoned and she was calling him "bloke and mate."
Houstonians are also showing their appreciation without words. Garcia has been getting a good amount of gratuity. All the donations and extra-large tips he's received equal $1,145. He donated that to The Rise School today.
For more stories go to myfoxhouston.com
Follow us on twitter.com/foxnewslatino
Like us at facebook.com/foxnewslatino