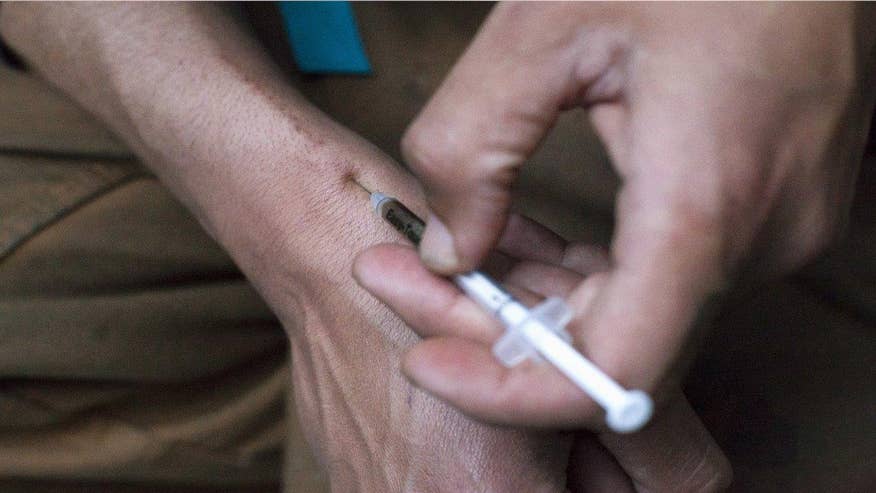 Communities across the country are grappling with the growing opioid epidemic as the number of daily overdoses continues to climb. Two experts with extensive experience in dealing with drug and alcohol addiction told FoxNews.com's Latest News that a statute left over from the 1960s may be contributing to the soaring number of fatalities.
The law, called the IMD Exclusion Rule, limits treatment in state hospitals to 15 days per month in facilities with more than 16 beds. It was initially established to deinstitutionalize treatment of the mentally ill, but today is used to discharge patients suffering from addiction out of treatment facilities.
"It somehow got construed to drug and alcohol," Deb Beck, of the Drug and Alcohol Service Providers Organization of Pennsylvania, told FoxNews.com's Latest News. "The rule says if you have a facility with more than 16 beds, there is no federal matching money, so it messes with incentives."
Beck, who said that many states have developed ways to cope with the rule, said that people dealing with addictions cannot recover in 15 days, especially for opioid dependency. Beck said that the rule was based on psychiatric care practices, which she likened to physicians creating a treatment plan for diabetes based off dental practices.
"A change in this area by the President-elect and the President could literally save thousands of lives across America," she said.
Robert Dellavella, CEO of Self Help Movement, echoed Beck's call for action from the Oval Office and said that while 46 governors and 29 senators have written to officials urging change to the law, an administrative action from the President would not only save lives, but also taxpayer dollars.
"Nationally there is not a family member – no matter what demographic, age, race – that is not impacted by the addiction crisis," Dellavella told FoxNews.com's Latest News, adding that long-term treatment is a necessary part of the process for recovery.
"Individuals who are not getting treatment services are many times stealing from their fellow citizens, they are getting admitted to hospitals which are much higher in level in care and cost a lot more," Dellavella said. "If the percentage of them can be saved and into recovery by non-hospital treatment services – and they are numerous and they are doing a great job – then we'll not only save lives, but we'll save dollars."
Dellavella said that while there is a whole myriad of treatments and pathways to treat a patient's addiction, restricting long-term inpatient care, which has a proven success rate, is unfair to the patient.
"I think it's economic apartheid," Beck said. "If you're deteriorated enough to be on Medicaid, you're not going to be able to get [residential treatment], or you're going to be able to get it but in a much more limited form."
Beck directed anyone dealing with an addiction crisis or with questions about the law to contact Drug and Alcohol Service Providers Organization of Pennsylvania or Self Help Movement.