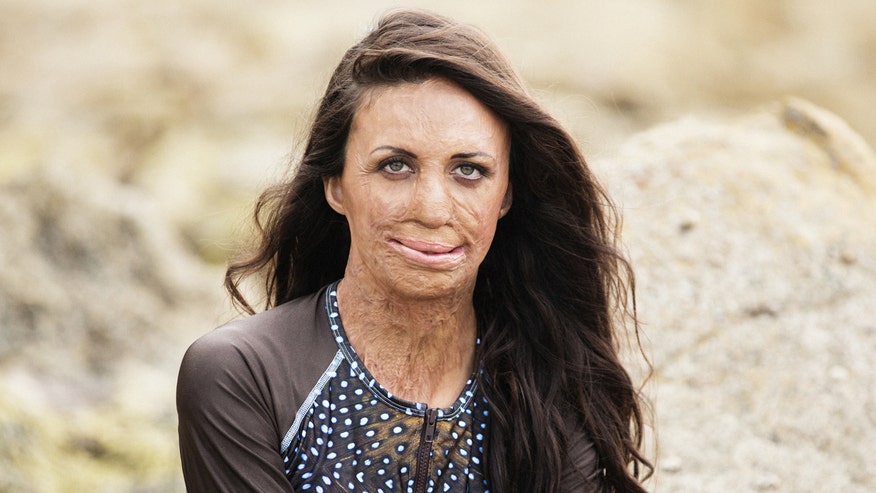 In 2011, Australian model Turia Pitt was competing in a 100K ultramarathon through the outback when a wildfire severely burned up to 65 percent of her body. More than two hundred surgeries and months of painful rehabilitation later, 29-year-old Pitt is alive and thriving. The mining engineer has not only recovered from her life-threatening injuries but continues to be a star athlete. This past October, Pitt competed in and finished the grueling Ironman World Championship in Hawaii.
Pitt is now sharing her journey of recovery with others to help raise awareness about the importance of tissue and organ donation, which she credits for saving her life.
Pitt was 24 years old when she and five others encountered the fire in the Kimberly region of West Australia. She was rushed to the hospital where she would spend the next month in a medically induced coma and then six more months in intense rehabilitation.
Doctors were in a battle against time to save her life. They had to remove the burnt and damaged skin and replace it with donated skin that had infection fighting properties in it. None would be found in Australia forcing doctors to search abroad for find viable donations. They found tissue in the United States through the Musculoskeletal Transplant Foundation (MTF).
"I'm not being dramatic but that was the skin that saved my life," Pitt told FoxNews.com.
"When I woke up and found out … I was only here today because of the grace and generosity of those American people, I resolved to live my life to the best of my abilities because I never wanted those donors, wherever they are, to think I was in anyway ungrateful for their generous gift," she said.
To express her gratitude and give keep herself motivated, Pitt said she had to set a big goal for herself; the Ironman World Championship. This triathlon includes a 2.4-mile swim, a 112-mile bike ride and 26.2-mile run. In order to compete, Pitt would first have to learn how to stand, walk and even talk all over again.
"I think one of the hardest things about doing an Ironman for me was when my fingers got amputated," she said.
The amputation affected her swimming and biking. She would eventually need a special bike outfitted with a modified brake so she would be able to stop using just her thumbs.
Despite these disadvantages Pitt completed the race in just over 14 hours. She said this achievement would not be possible without the of skin and tissue donations. To give others like her a fighting chance, Pitt is teaming up with MTF to raise awareness about organ donation and let people know it saves lives.
Pitt will be riding on the Donate Life Float at the Rose Parade.
To learn more about Turia Pitt follow her on Instagram @turiapitt.
For more information about organ donations visit DonateLife.net.