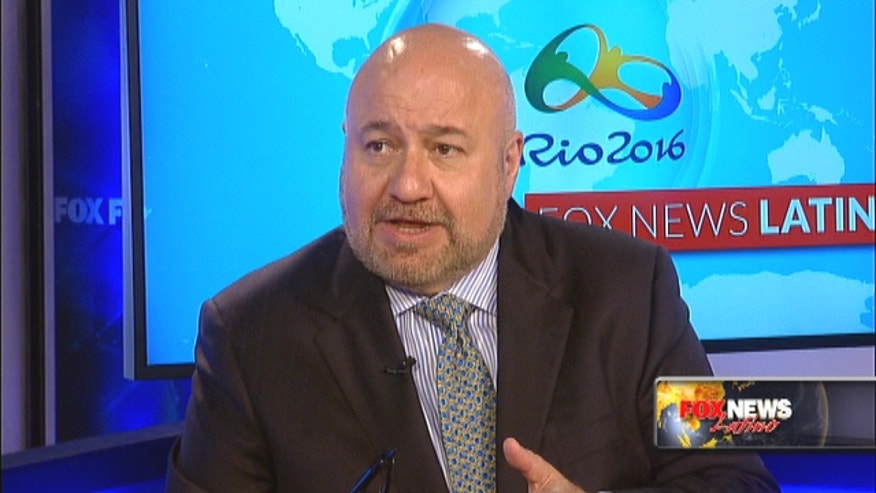 With more than 10,000 athletes participating at this year's Rio Games and an estimated 300,000 to 500,000 people traveling to Brazil for the Olympics, the city is set to see record numbers of people descend on it in the next two weeks. What sort of precautions should all those people take while travelling to an area that's been designated by the Centers for Disease Control and Prevention as being on high alert because of Zika?
Fox News Latino spoke with Dr. Manny Alvarez, Fox News Health's senior managing editor, who says, in short, that Brazil is a "health mess."
In February of 2016, the World Health Organization declared an international public emergency as evidence was confirmed that Zika can cause birth defects and neurological health problems in infants.
Brazil is the epicenter of the Zika virus. The virus is usually transmitted by infected mosquitos but it can also be sexually transmitted.
"Zika is a global problem, a global pandemic," Alvarez told Fox News Latino.
"It's been a very fast spread of the virus among large populations, through the mosquitoes primarily. When you look at the effects, especially of pregnant women from this virus and the high affinity to attack the unborn child, and if it attacks in the first or second trimester, then you can see lethal and severe neurological complications. This is basically what we're facing today," Alvarez said.
He suggested that women who are thinking of having children in the near future or men with sexual partners who might be should reconsider traveling to Brazil.
Despite the 166,000 suspected and confirmed cases of Zika in Brazil, resulting in the births of nearly 1,800 infants with microcephaly, the Olympic show will indeed go on.
Ana Virela, 22, came to Rio for the games from Minas Gerais, in southwestern Brazil.
"I was really scared in the beginning, since we didn't know the virus was transmitted [sexually] as well as from the mosquito. We don't know how long the virus stays in our body, and I'm afraid of affecting a possible pregnancy," Virela told Fox News Latino. "But since it's winter, and mosquitos aren't that active, I chose to come."
She added, "We can't lock ourselves in the house."
"I am taking so many precautions, because I'm scared to death," Vanessa Ortis, 39, a California TV producer, told Fox News Latino. "I came because I spent so much money on tickets and the flight. It has always been my dream to come to Brazil. But I'm using a lot of repellent and praying."
In May, 150 doctors and scientists signed a letter urging the World Health Organization to move or postpone the Games. Before the letter was even posted, the International Olympic Committee announced the Games would proceed.
"Brazil was ill-equipped from the very beginning to handle the Olympics," Alvarez told FNL. "Not only did you have all of the Zika epidemic happening with very little disclosure from the Brazilian government and some of the South American governments [asking] for help, but now we're seeing consequences of the polluted waters ... So, it's a health mess."
In the end, Alvarez said, you could always stay home, put your feet up and enjoy the 2016 Rio Games in front of your television.
Carolina Torres in Rio de Janeiro contributed to this report.
For more on the Zika epidemic, see "Fox News Reporting: Zika," featuring Dr. Manny Alvarez, Saturday, Aug. 6 at 8 p.m. on the Fox News Channel.
Rebekah Sager is a writer and editor for FoxNews.com. She can be reached at rebekah.sager@foxnews.com. Follow her on Twitter @rebekah_sager.