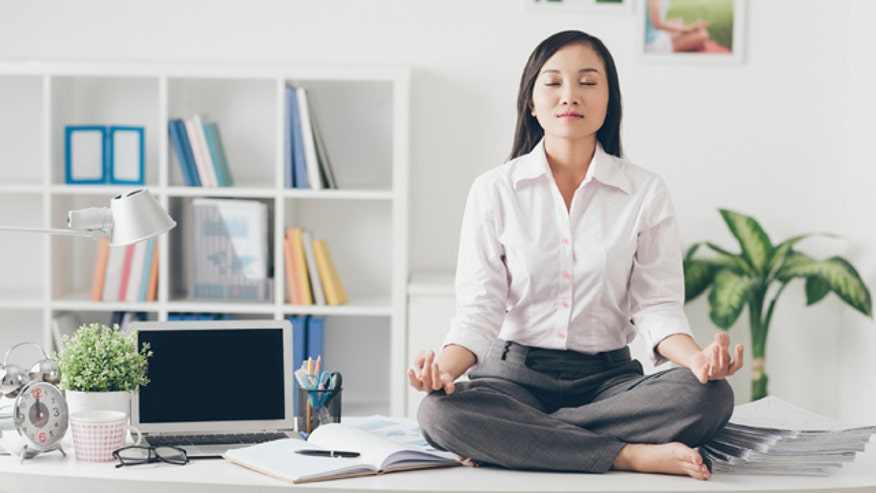 Don't you wish you could take the calm and relaxation of a yoga class with you? That's exactly what TV anchor-turned-yogi Christine Chen wanted to do when she first started to practice to alleviate back pain.
Her new book, "Happy-Go-Yoga: Simple poses to relieve pain, reduce stress, and add joy" is filled with on-the-go moves for everyday life.
"I took the pieces of the things they taught me and put them into my real life," Chen told FoxNews.com. "For example, when we did have a commercial break, I would do a version of pigeon pose on the news desk, which turned out to be the cover of my book."
Chen suggests "wrist wrestling" at your desk or on an airplane.
"This motion of making an infinity symbol with their wrist interlaced so it gives the wrist a little massage; it gives things a stretch and then you can proceed," she said.
Putting down our mobile devices is so difficult these days… and it's taking a toll on our health and posture.
"Before, our repetitive motion used to be a mouse. Now, it's the tapping of the thumbs and the shrugging of the shoulders forward," Chen said.
To fix that, she created a "Smartphone Siesta" to open up your chest and force you to put your phone behind your head and out of sight.
Another stress-relieving move, "Twist, Don't Shout," is good for frustrating times at work. Sit at your desk, keep your legs forward and twist one way and then the other way for a few breaths.
"Twists are a really good way to let go of toxins, of what doesn't serve you. Anger certainly doesn't serve you if you're in a career," Chen said.
To tone your core and glutes, try "Perched." Lift one leg and balance on one foot while you're waiting in line or just about anywhere.
"Unbreakable You" is meant to boost your confidence and suppress nervousness. To do this move, interlace your fingers so your thumbs are pointing upward. Then hold your hands right at your navel.
"If you do Unbreakable You in an elevator you are literally going from one level to the next. And it's a moment in time that you can kind of steal for yourself."
Visit HappyGoYoga.com for more.