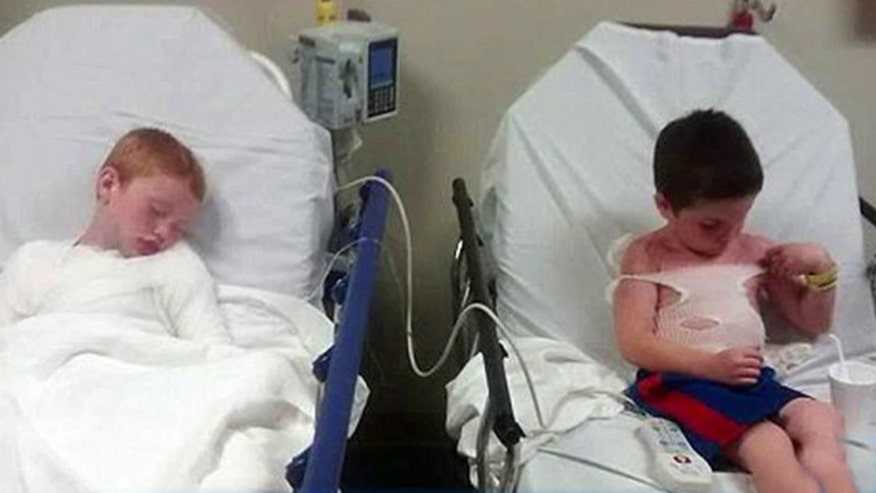 On Oklahoma mother whose two sons are hospitalized with severe burns and blisters says the day care center where she dropped them off Friday let them play outside without shirts or sunscreen.
Shaunna Broadway said her two sons, Conner Harvey, 7, and Tray Wells, 5, were sent home from two different hospitals with pain medication and cream for their burns, but things got worse when the eldest began complaining of chest pain.
"Things got worse, especially with my oldest one. He started to complain of chest pains and not being able to breathe, and his chest started swelling," Broadway told NewsOn6.com. She took her boys to the Hillcrest Medical Center Burn Unit in Tusla, from which doctors sent them determined to Shriner's Hospital in Texas via life-flight.
They are now being treated for second and third degree burns. Photos shared by family members show large blisters formed on the boys' backs and shoulders.
"Right's right, and wrong's wrong, and there's no excuse for this," Broadway told NewsOn6.com. "I'm a single parent, and I do all I can. I work Monday through Friday, and they have to go to day care. I don't have the luxury to just have somebody that I can just have watch them outside day care," she said.
The boys were under the supervision of "Happiness Is A Learning Center" day care Friday, which has been cited by the Department of Human Services 19 times in the past year, NewsOn6.com reported. A police report was filed Sunday over the latest incident. The children reportedly were taken to a local splash pad to play.
"Whether it was intentional or not intentional, they were supposed to take care of them, and they did not— and that's the bottom line," Broadway told NewsOn6.com.
The family is fundraising to help cover medical expenses. Broadway said her sons will likely remain hospitalized for the remainder of the week.