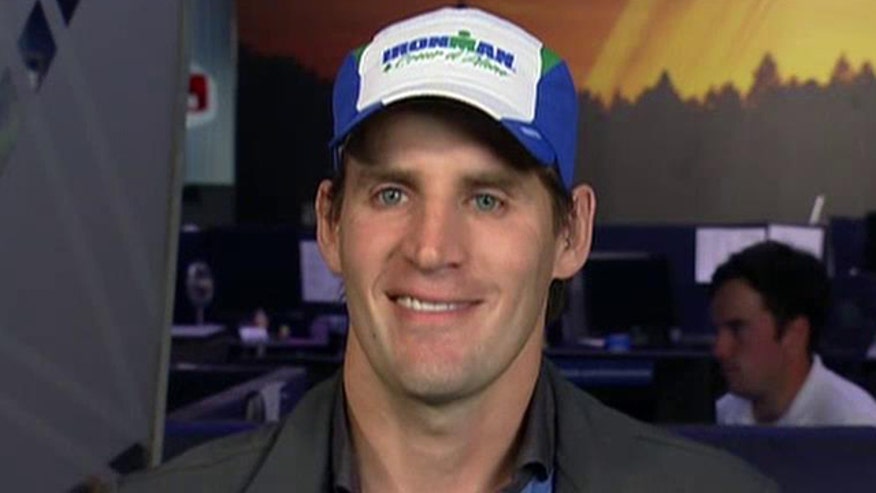 The first blind active duty officer in the Army has accomplished another achievement: Completing the IRONMAN triathlon.
Retired Army Captain Scott Smiley, 35, finished the IRONMAN Coeur d'Alene in Idaho on June 28, with the help of his guide and brother-in-law Andy Cooper. The triathlon consisted of a 2.4-mile open water swim, a 112-mile bike ride and a 26.2-mile run. Scott finished in 16 hours, 48 minutes and 25 seconds.
Smiley, who lives in Spokane, Washington, was only six months into his deployment in northern Iraq in 2005, when a roadside suicide bomber left him badly wounded and completely blind. Half of his body was partially paralyzed.
"I literally thought, my life is over, I have no reason to live, I have no reason to do anything, but it was the love of my wife, my family, my friends, and God that inspired me to drive on, to forgive and to push forward in life and to continue to fight and eventually continue to serve ," Smiley told Fox News Happening Now.
During the triathlon, Smiley was struggling after the first half of the run, but his wife, Tiffany, reminded him that he was doing it for those who serve, those who had given so much but couldn't be there.
"That's truly why I wanted to do an Ironman," he said. "To motivate, inspire others. I publicly speak now and it's just to help others realize there's a reason to give and a reason to give back."
The weather proved a challenge— 105 degrees Fahrenheit at the start of the marathon— but Smiley and his partner kept each other inspired and moving forward.
"It was just about not quitting," he said.
Smiley and Cooper worked in tandem to prepare for and complete the event.
"It's true teamwork and working together that gives me the ability to become an Ironman," he said.
Smiley, a public speaker, told Lee that his wife, three kids, family and friends keep him motivated.
"It's the love that surrounds me that gives me the ability to fight, continue to move forward and continue to make an impact," he said.