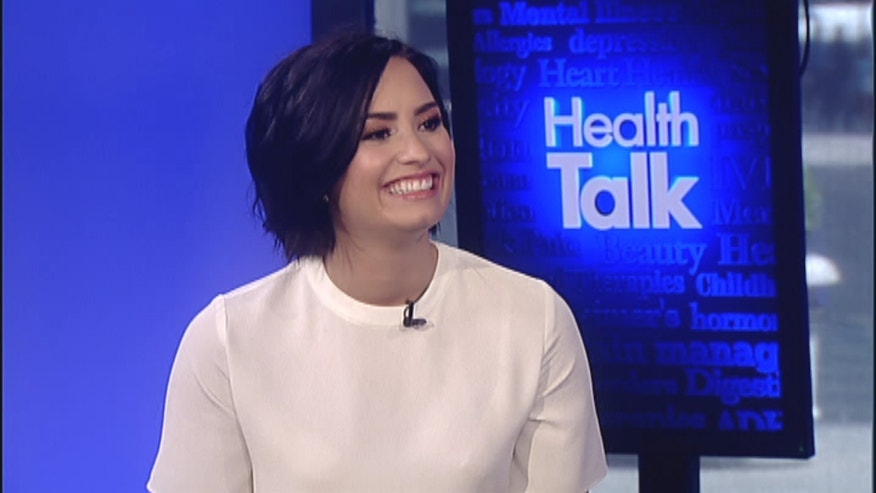 Popstar Demi Lovato is no stranger to the struggles faced by millions of Americans who suffer from mental illness.
The 22-year-old was herself diagnosed with bipolar disorder five years ago, after she quit the Jonas Brothers world tour and entered treatment for addiction, an eating disorder and self-harming. Her biological father also struggled with alcohol addiction, but it wasn't until after his death in 2013 that Lovato discovered he also battled schizophrenia and bipolar disorder.
"There wasn't necessarily a warning, other than knowing that addiction runs in the family," Lovato told FoxNews.com. "That was definitely a concern to me, and obviously it was a legitimate concern, but it didn't really stick that well," she said. "I never knew exactly what he had other than his alcoholism, but I found out later when he passed away what it was that he had, and by then I already knew that I was bipolar."
Now, Lovato has teamed up with five mental health organizations to launch a new campaign "Be Vocal: Speak Up for Mental Health," dedicated to shattering the stigma associated with mental illness.
"Be Vocal," which launched Thursday, encourages those suffering to talk about their illnesses. Sunovion Pharmaceuticals together with the Depression and Bipolar Support Alliance, The JED foundation, Mental Health America, the National Alliance on Mental Illness and the National Council for Behavioral Health are working with Lovato to empower young adults and people living with mental health conditions to speak up in their community to help advance mental health care. Separately, Lovato has also founded the "Lovato Treatment Scholarship" to help those who cannot afford mental health care.
"Mental illness doesn't discriminate by age," Lovato said, adding that "Be Vocal" appealed to her because of the simplicity of its message.
"I have a younger, young adult fan base, and so yes, it will reach a lot of younger people, but I've also had some of my fans' parents tell me and confide in me, or even people who don't have young kids, they've told me that my book has helped them, or speaking out has really helped them as well," Lovato said.
Lovato has never shied away from sharing her story, often sharing pieces of her journey during her concerts while on tour. She said speaking up about her struggles helps to keep her accountable with her fans and also to better herself.
"I know that if I'm talking about it a lot, then I really have to walk the walk," she said.
Lovato credits a few people in her life with helping her return to the world stage, ensuring that she stay sober and helping her to find the will to live. She also credits her family, friends and fans with helping her in her return.
The "Really Don't Care" singer recently joined forces with Nick Jonas and her manager Phil McIntyre to create Safehouse Records.
"Nick and I always remained close friends, even when I went to treatment, he is somebody that I've known since I was 14, and we've been through so much together, and my manager as well. He's stuck by my side through everything that I've been through, and he's fought this journey with me," Lovato said.
"Of all the people in the world, I wanted to create a label with them both."
Click here for more information on "Be Vocal: Speak Up for Mental Illness."