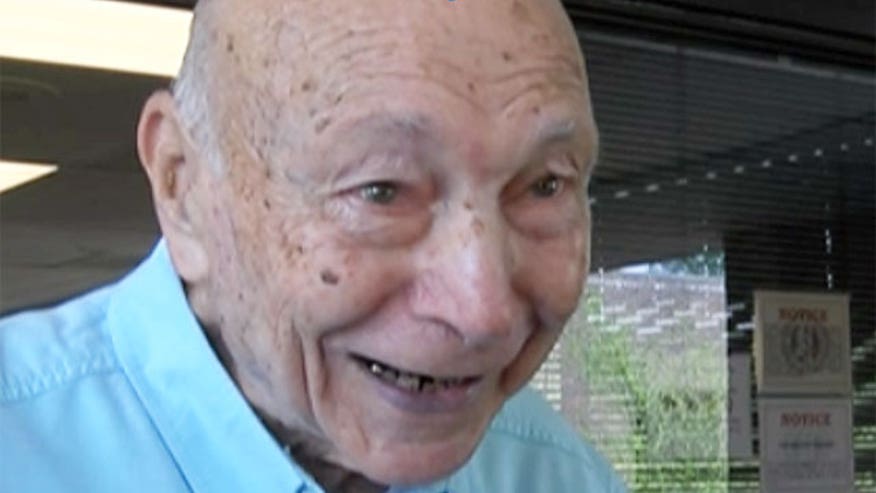 EDWARDS, Miss. – An 89-year-old Mississippi doctor who tends to his loyal patients out of a battered Toyota on Wednesday got a clean bill of health from the state, which had reviewed his fitness to practice after learning he was writing prescriptions out of the car.
Dr. Carrol Landrum, of Edwards, told FoxNews.com his "informal" meeting with the Mississippi State Board of Medical Licensure was cordial, and resolved with the bureaucrats affirming his fitness to practice medicine and him pledging to keep better records. The plight of Landrum, a World War II Navy veteran who has served the rural community some 28 miles east of Jackson since the 1950s, made international headlines after the state threatened to shut him down. After FoxNews.com reported on the story in January, more than 80,000 people signed an online petition backing him.
"I didn't know there was any law against it."

- Dr. Carrol Landrum
"I want to thank the tens of thousands of people around the world who supported me," Landrum told FoxNews.com, with a tear in his eye following the meeting.
Representatives from the board declined to comment about the meeting. But Landrum described it as a comfortable, friendly setting, and noted the main point the board seemed to have was that he needs to keep better records.
"Well, I knew that," laughed Landrum, adding the board officials recommended he take a course on record-keeping.
Landrum said keeping accurate paperwork is difficult out of the car that has served as his headquarters since he had to leave his old office because of rising crime. Volunteers in Edwards are refurbishing an old post office building for him to set up shop, which is expected to be ready within weeks.
Landrum learned he was in hot water last year, when an investigator for the board told him the state frowns upon his writing prescriptions out of his car. Investigators monitored him for months.
"He said the director had told him to ask me to surrender my license right then and there or I would come before the board," said Landrum. "And he said basically, 'If you surrender it here, nobody would know about it. But if it goes to the board, it'll be public knowledge and it might affect your reputation.'"
Landrum refused, and continued his work. That's when attorneys from the Goldwater Institute stepped in to make sure he received a fair shake from the state.
"We feel very confident moving forward that Dr. Landrum is going to be able to get back to work and serve the community of Edwards the way that he has been," said Christina Sandefur, senior attorney at the Goldwater Institute.
Landrum treats mostly low-income residents in the rural town, where the per capita income is just $12,000, according to the most recent census.
"Peoples' lives are at stake, and if I'm not there, a lot of them would die," said Landrum, who served as a sonar operator in the Navy during World War II, doing a stint in the Pacific Theater, where his role was to help protect U.S. destroyers from enemy submarines.
Landrum's dented, black, 2007 Toyota Camry has been a lifeline for area residents for years, and his grateful patients say they trust his care. Fox News could find no law or regulation in Mississippi barring doctors from operating out of cars. According to the Mississippi Board of Medical Licensure, there have been no disciplinary actions against Landrum.
"Taking his license?" said Edwards resident Leigh Jefferson, a patient of Landrum. "I mean, that's pretty much like taking his livelihood. And you may as well take his life because that's what he's dedicated his life to doing."
Some Landrum supporters believe the Mississippi Medical Board is "angry" because Landrum is strong competition against other doctors in the area.
"I guess 'cause they don't get a percentage of what he's doing," said Edwards resident Terrance Williams. "When I was going to [another] doctor, paying all this extra money, they couldn't tell me nothing. That's the God's honest truth."
Dr. H. Vann Craig, executive director of the Mississippi Medical Board, did not confirm the investigation of Landrum or comment on the meeting. But he told FoxNews.com Landrum still has an active Mississippi license.
For Landrum, the assurance he can continue his work brought peace of mind. He believes he is serving an important need in the community.
"These people absolutely need me," said Landrum. "I see the need and I'm trying to fulfill it as much as possible," he said of the patients he treats.
Kyle Rothenberg is a graduate of the Junior Reporter program at Fox News. Follow him on Twitter: @kylerothenberg