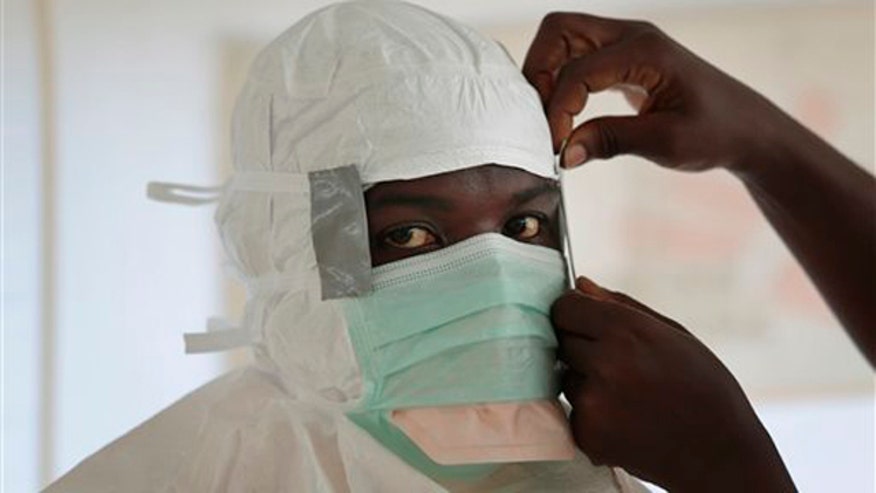 An American journalist who contracted Ebola while working in Liberia is undergoing preliminary testing and evaluation at Nebraska Medical Center after landing in the U.S. Monday, while another patient in Dallas is listed in critical, but stable condition.
In a press conference Monday, freelance photographer, Ashoka Mukpo's parents said their son was in good spirits and that his condition — which included fever and some nausea — had not changed since he left Liberia.
Mukpo, 33, is unsure how he contracted the virus, but thinks it may have occurred while he was spray washing something and contamination splashed back on him, his father, Dr. Mitchell Levy said.
"I've asked him about it a lot, but he's not certain," Levy said. Mukpo is being cared for by a team of 40 at Nebraska Medical Center.
According to Dr. Brad Britigan, dean of the college of medicine at UNMC, the medical team is considering all treatment options, but Mukpo will need to be consulted before any therapies are implemented.
"[We're] still in the process of discussions with physicians and the team taking care of him of what medications they're going to give him at this time," his mother, Diana Mukpo, said.
Meanwhile, a spokeswoman confirmed another patient, Thomas Eric Duncan, who has been hospitalized at Texas Health Presbyterian Hospital since Sept. 28, is receiving the experimental medication, brincidofovir.
Duncan, a Liberian man, arrived in Dallas on Sept. 20 and started to feel ill a few days later while visiting family. On Sunday, Dr. Thomas Frieden, director of the Centers for Disease Control and Prevention (CDC), said he was aware that Duncan's health had "taken a turn for the worse," but he declined to describe Duncan's condition further. He was listed in critical, but stable condition Monday.
Mukpo had previously spent four years in Liberia working with a non-governmental organization, returning home in May. He went back to Liberia on Sept. 4.
Mukpo was working in Liberia as a freelance cameraman for NBC News when he became ill last week.
He is the fifth American to return to the United States for treatment since the start of the latest Ebola outbreak, which the World Health Organization estimates has killed more than 3,400 people.
The Nebraska hospital's biocontainment unit was created in 2005 to handle this kind of illness, Dr. Phil Smith, who oversees the unit, said in a news release Friday.
Doctors at the isolation unit— the largest of four nationwide—said they will apply the lessons learned while treating American aid worker Rick Sacra, who had been treated for Ebola at the center and returned home to Massachusetts on Sept. 25 after three weeks of treatment.
Sacra received an experimental Tekmira Pharmaceuticals drug called TKM-Ebola, as well as two blood transfusions from another American aid worker who recovered from Ebola at an Atlanta hospital. The transfusions are believed to help a patient fight off the virus because the survivor's blood carries antibodies for the disease. Sacra also received supportive care, including IV fluids and aggressive electrolyte management.
Sacra was admitted to UMass Memorial Medical Center on Saturday after he came in complaining about a cough and low-grade fever and was put in isolation as a precaution. The hospital said weekend test results came back negative for Ebola, and the U.S. Centers for Disease Control and Prevention (CDC) confirmed that Sacra's symptoms weren't caused by the virus.
Also on Sunday, officials said after several hours of searching they located a homeless man who was sought because of possible contact with Duncan.
The person is not considered to be one of the 10 people who definitely had contact with Duncan, but is part of a larger group of 38 people who may have been around Duncan when he was showing symptoms of the disease, officials said.
He was found a few hours after officials announced he was missing, Dallas city spokeswoman Sana Syed said.
Dallas County Judge Clay Jenkins called the man, whom he didn't identify, a "low-risk individual." Authorities had monitored him for a day earlier but wanted to take his temperature regularly to make sure he doesn't have a fever, a symptom of Ebola infection.
Jenkins said the man would receive a mental health evaluation at Dallas' Parkland Hospital. The man will eventually be placed in housing that will allow health workers direct access to him daily. Syed said it was unlikely that the man would be placed in a homeless shelter.
The group of 10 people identified to have direct contact with Duncan consists of seven health care workers and three family members or community contacts, Frieden said.
Four members of a family who hosted Duncan in their northeast Dallas apartment are under isolation, but they have not shown symptoms of infection.
The virus that causes Ebola is not airborne and can only be spread through direct contact with the body fluids— blood, sweat, vomit, feces, urine, saliva or semen— of an infected person who is showing symptoms.
Meanwhile, hospital officials in Delaware said Monday that a child being monitored for possible Ebola tested negative for the virus, and that a confirmatory CDC test was planned.
Bayhealth Kent General Hospital in Dover said in a statement that a child from Liberia was admitted to the hospital Saturday and placed in isolation.
"The child is past the 21 day maximum incubation period and it has been determined by the CDC that the likelihood of Ebola infection is extremely low," the statement said. "Since the likelihood is low, the CDC declined to test this child for Ebola.The patient will continue to be observed in the hospital until the CDC and the infectious disease physician determine it is safe for the patient to be discharged from the hospital."
The Associated Press contributed to this report.