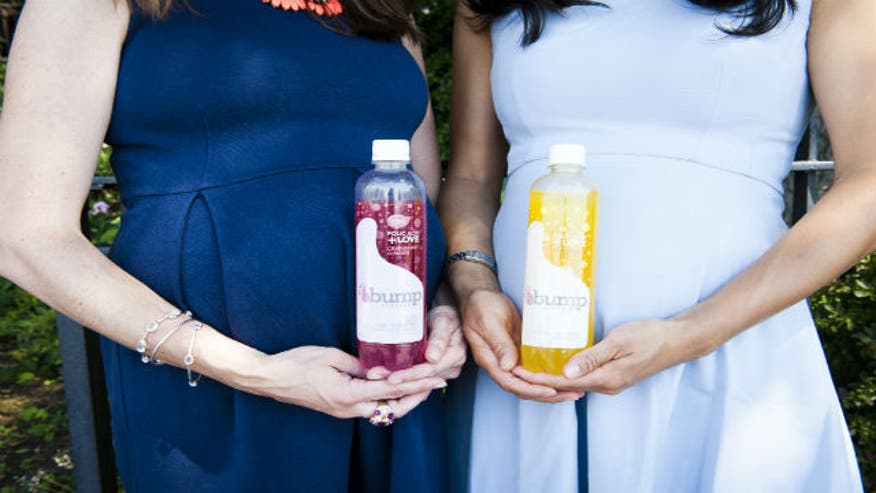 When you're pregnant or trying to conceive, prenatal vitamins can be your best friend – and sometimes your worst enemy. The nourishing vitamin pills are essential for healthy fetal development, but many women cringe at the very sight and smell of them.
Stacy Rauen, a Brooklyn mother of one with twins on the way, struggled with taking prenatal vitamins from the very beginning of her pregnancy.
"Just the thought of taking these massive horse pills every night, I would just gag," Rauen told FoxNews.com.
Desperate for an easier way to get all the beneficial baby vitamins she needed, Rauen and her husband came up with an alternative plan.
"I was moaning about taking a prenatal again, and [my husband] was like, 'You know you have some sparkling water here; settle your stomach a bit,' and the idea just kind of clicked."
That's how Bump Water was created – an all-natural beverage made with the same vitamins and folic acid found in prenatal vitamin pills.
To get their mommy-product up and running, Rauen partnered with her friends Amber and Spencer Wilcox. Amber was another mommy-to-be who couldn't stomach prenatal vitamins.
"When Amber and I started talking about it, it just seemed so simple to be able to drink your way to the vitamins that you needed," Rauen said.
The two moms wanted to make sure that Bump Water was a functional beverage that delivered a full amount of recommended doses.
"We're different in terms of other beverages that tout themselves as vitamin-enhanced," Rauen said. "It was important to us to have 100 percent of the recommended dietary allowance (RDA) of 10 prenatal vitamins in bump water."
Bump Water provides women with great beneficial vitamins like vitamins A, D, E, B6 and B12, niacin, folate, biotin, zinc, and magnesium. But the real star of the beverage is folic acid, a B vitamin that helps the body make healthy new cells.
"Folic acid is really important, because studies have shown that taking enough folic acid can reduce a very important fetal malformation or birth defect called spina bifida or neural tube defect that can also affect the brain as well," Dr. Joanne Stone, the director of maternal fetal medicine at Mount Sinai Hospital in New York City, told FoxNews.com.
Stone says the critical times to be on folic acid are prior to conception and in the early stages of pregnancy.
"It's important to have folic acid when you're breast feeding as well," Stone said. "Your body requirement for producing red blood cells is higher – and some women are anemic if they lose a lot of blood during delivery, so you really want to replace that."
Although Bump Water is jam-packed full of folic acid and vitamins, it does not have all the vitamins that you and your baby need – such as iron and the omega-3 fatty acid DHA – to be considered a substitute for the prenatal vitamin pill.
"We're not a full replacement by any means. But if you travel and you forget your prenatal vitamins or you're sick one day and can't stomach them, this is a great thing to have," Rauen said.
Stone agrees that in order to get all the necessary vitamins women require during pregnancy, there needs to be alternative options.
"This has been a problem that we noticed more than 10 years ago, so I congratulate the people at Bump Water for getting this off the ground," Stone said. "I think it's a good value and something that is in a woman's armamentarium in case they can't swallow a prenatal vitamin."
Keeping their health-conscious mommy audience in mind, the full flavor, 100-calorie versions are sweetened with organic cane sugar, while the 10-calorie lite versions are made with all-natural stevia. Bump Water bottles are also bisphenol-A (BPA) free and come in four delicious flavors – including sparkling lemonade and sparkling cranberry ginger.
You can order a 12-pack of Bump Water for $28.99 on BumpWater.com.