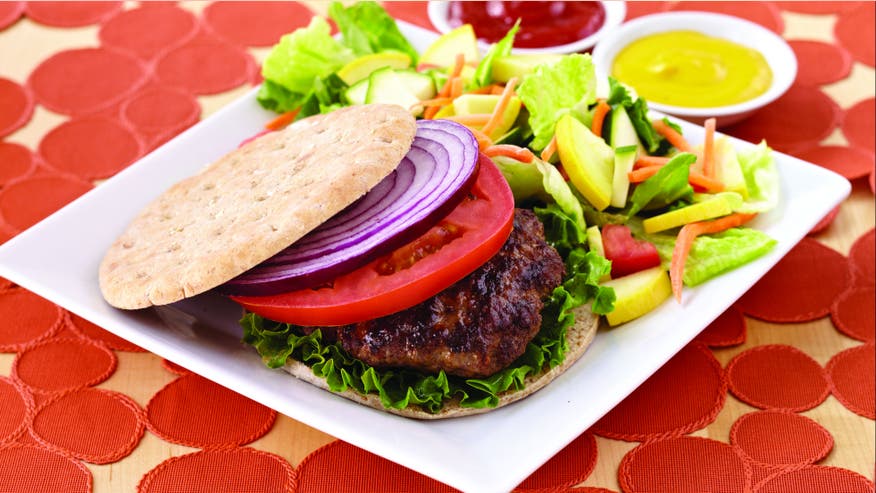 Hundreds of new diet books hit the shelves every year, but no matter what the new spin is, diets usually mean two things - small portions and bland flavors.
But a certain 'hungry girl' was determined to develop a plan that would allow you to eat large portions of great-tasting food-- and still lose weight.
"The idea has always been to make big portions of foods that are satisfying. My plan is about 1,300 calories a day-- so that's not a lot of calories, but you get a ton of food for that amount of calories," Lisa Lillien—aka 'Hungry Girl' – and author of "The Hungry Girl Diet" told FoxNews.com.
The Hungry Girl diet is a four-week plan that allows you to eat three meals and three snacks a day, offering over 40 recipes to choose from.
Here is a sneak peak at some of the recipes included in the Hungry Girl diet:

Breakfast: Knife and fork avocado chicken b-fast burrito
335 calories, 7.5g fat, 30g protein
According to recent research presented at the American Society for Nutrition's Experimental Biology Conference, eating a higher-protein breakfast can reduce hunger throughout the day compared to lower-protein options like cereal and pancakes.
To keep you full and satisfied, all of the breakfast options in the Hungry Girl diet plan have at least 20 grams of protein. The tasty knife & fork avocado chicken burrito packs in 30 grams of protein and around 15 grams of fiber.
"There is chicken in there, egg whites, a big high-fiber tortilla, and you get two-thirds a cup of berries, which are loaded with fiber. All of these ingredients are very very filling and it is a massive plate of food," Lillien said.

Lunch: Big burger with side salad
343 calories, 8.5g fat, 33g protein
You may be surprised to see a meaty-burger on a diet plan, but Lillien says she keeps her pub burger guilt-free by using extra-lean ground beef.
"You have to look at the facts. A lot of people think ground turkey or chicken are healthier and lower in calories, but that's not necessarily true," Lillien explained. "When you look at lean turkey versus extra-lean ground beef, extra-lean ground beef tastes better and is lower in fat and calories."
Never forgetting to get in a serving of veggies, Lillien combines this meal with a big side salad tossed in a light oil and vinegar dressing.
Ingredients:
One 100-calorie flat sandwich bun
4 ounces raw extra-lean ground beef
1 tablespoon egg whites or fat-free liquid egg substitute
Dash each salt and black pepper
Dash garlic powder
Dash onion powder
1 teaspoon ketchup
1 teaspoon mustard
1 lettuce leaf
1 large tomato slice
1 thin slice onion
Directions:
Split bun into halves, and if you like, lightly toast. In a medium bowl, thoroughly mix beef, egg whites and seasonings. Evenly form into a 4-inch patty. Bring a grill pan (or skillet) sprayed with a nonstick spray to medium-high heat. Cook patty for 3 to 4 minutes per side, or until cooked to your preference. Place patty on the bottom bun half. Top with remaining burger ingredients, followed by the top bun half.

Dinner: Chicken fajita tostados
343 calories, 7.5g fat, 33g protein
This popular Mexican dish can be healthy – or extremely unhealthy. For example, a chicken fajita dinner at the chain restaurant Applebee's has a whopping 1,290 calories, which is more than three times the amount in Lillien's version.
The Hungry Girl fajita is loaded with veggies and skinless chicken.This easy weeknight dish is quick and leaves you with minimal clean-up.
"You can make the actual fajitas in a foil pack, which I love! You just throw everything into a foil packet and throw it into the oven for a few minutes to cook it," Lillien said. "You can also add a little spice like some cayenne or chili powder if you want some heat."

Snacks: Tuna lettuce wraps
99 calories, 1.5g fat, 17g protein
If you are a fan of tuna, try Lillien's quick and simple tuna lettuce wraps. Lillian uses StarKist low-sodium pouches – convenient and packed with protein – to kick up her energy in between meals.
"Being a foodie, I like sweet snacks, but I also like satisfying high-protein snacks. So one of my go-to's is always tuna," Lillien said. "And I love the Starkist tuna in pouches, they all have 110 calories or less, and come in great flavors".

Snacks: Cannoli bites
97 calories, 3g fat, 4.5g protein
To satisfy a sweet and savory craving, Lillien turns to her take on the Italian cannoli pastry.
"There is always something that will kick a craving, it's how the plan was designed. A lot of diets are too strict and limiting and they don't focus on the cravings people have every day," Lillien said.
Made on mini caramel rice cakes, the 'cream filling' is mixed with light ricotta cheese, vanilla extract, some sweetener and a satisfying amount of chocolate chips.
"It's just enough-and kids love them too."

Snacks: Butternut fries
96 calories, .5g fat, 1.5g protein
French fries may be an American staple, but they won't make anyone's list of healthy snacks-- even a medium size order of McDonald's fries dishes out 19 grams of fat.
"I am a french fries fan, so I've tried every vegetable in the produce aisle as a french fry. Butternut squash works, carrots work-- you bake them, you don't fry them and when you add a little salt they are out of this world," Lillien said.

Ingredients:
6 ounces peeled butternut squash, cut into French-fry-shaped spears
Dash coarse salt
1 tablespoon ketchup
Directions:
Preheat oven to 425 degrees. Spray a baking sheet with nonstick spray.
Thoroughly pat dry the squash spears. Lay them on a sheet, and sprinkle with salt. Bake for 10 minutes. Flip spears and bake until mostly tender on the inside and crispy on the outside, about 6 minutes. Serve with ketchup for dipping.

The 'after' plan
Lillien's book also includes great tips and tricks to help you maintain your weight loss.
"People fail at diets because they're on the wrong diet and need to find the plan that is right for them," Lillien explained. "I count my calories and I live by the 80-20 rule. Eighty percent of the time I'm making smart choices and doing everything I'm supposed to be, and 20 percent of the time, I'm loosening the reins."
For more information and recipes visit Hungry-Girl.com.