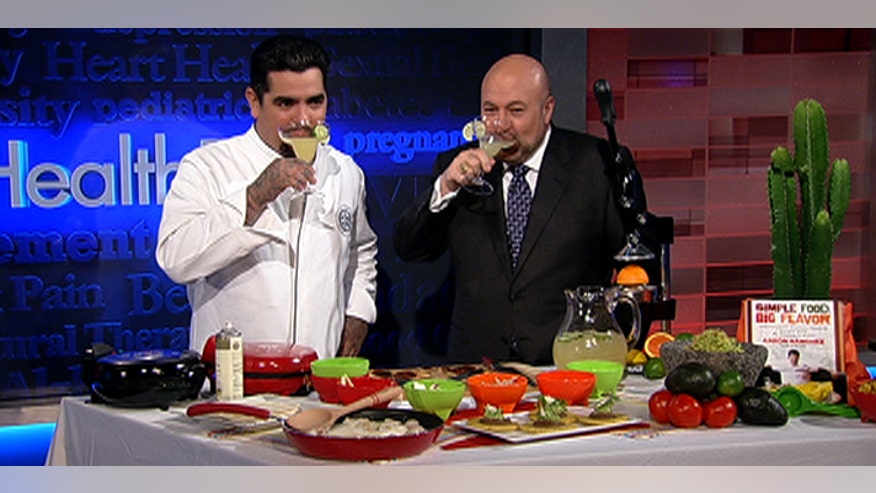 Cinco de Mayo is a day to celebrate Mexican culture and honor the country's victory against France at the Battle of Puebla in 1862.
While the holiday honors an important part of Mexican history, it's also a perfect time to feast on all your favorite Mexican dishes. But indulging in mounds of cheesy nachos and heavy, overstuffed burritos will only expand your waistline and squash your healthy eating habits.
To help you enjoy your fiesta, Food Network star and restaurateur Aarón Sánchez shared some of his favorite, healthy recipes that won't leave you feeling guilty and bloated the next day.
"There are a ton of authentic Mexican recipes that focus on healthier meats and fish and there are a ton of vegetarian options that are high in protein and nutrients," Sánchez told FoxNews.com.

Cotija Crusted Quesadilla
When it comes to Latin cuisine, Sánchez knows a lot about savory and authentic Mexican foods. Of course, much of this knowledge was gained while growing up with one of New York's most notable Mexican chefs, Zarela Martinez—his mother.
"I was born in El Paso, Texas and moved to New York with my mom when I was pretty young," Sánchez said. "My mom's family is from Chihuahua and I've been fortunate enough to travel all throughout Mexico, see the food and experience the culture."
For a quick and healthy meal, Sánchez loves making vegetable quesadillas using an electric quesadilla maker from his new line of cookware products with IMUSA. The clean-up is easy and the quesadilla maker features non-stick grill plates that you can mist with cooking spray – a healthier alternative to crisping your tortillas in an oil-filled skillet.
"Typically you get this [quesadilla] with chicken or beef, but we're going to use vegetables," Sánchez said. "Some fresh shitake and white button mushrooms are a really great source of meatiness- so if you can't eat meat, mushrooms are where it's at."
Ingredients:
½ cup Cacique® Cotija, crumbled
1 cup Cacique® Queso Quesadilla, shredded
Summer Squash
Mushrooms
Tortillas
Directions:
Preheat the Quesadilla Maker. The green ready light will turn on when ready. Spray Quesadilla Maker with non-stick spray, then sprinkle ½ cup of crumbled Cotija evenly and cover with a tortilla. Next sprinkle 1 cup of Cacique Queso Quesadilla–shredded, over the top of the tortilla, add vegetables and cover with a second tortilla. Close the Quesadilla Maker and allow it to cook for 3-7 minutes. When the quesadilla is finished cooking, raise the lid and remove the quesadilla with a flat plastic or wooden utensil. Cut quesadilla into 4 wedges and serve with whatever garnish you'd like.

Vatapa
This shrimp and fish coconut stew is a classic Latin American dish.

Rich in seafood, coconut milk and nuts, vatapa is full of fiber and protein. Just three ounces of shrimp (or about seven medium-sized shrimp) offer about 18 grams of lean protein.

Although the texture of this dish is creamy, Sánchez vows that it is still a healthy choice.
"Instead of using regular heavy cream we're using coconut milk, some chilies, ginger, onion a little bit of shrimp and sea bass," Sánchez clarified. "And you poach the fish instead of frying it-- and when you poach, you're not using any additional fat, you're just using the fat in the coconut milk."


Sopes with Black Bean Puree and Tomatillo-Avocado Salsa
Sopes is a traditional Mexican dish – perfect for any fiesta or Cinco de Mayo party.
Small in size, but big on flavor, these tart-like cakes are made with corn tortilla flour and topped with any salsa, bean or meat combo you'd like.
"Basically, they are corn tarts, so instead of using flour, something a little heavier, the corn is a really nice element--and it's great for people with celiac, or those who can't have gluten," Sánchez said.
In Sánchez's version, he uses a smoky black bean sauce layered with a roasted tomato-avocado salsa. The black beans used in the topping have amazing nutritional benefits – they are rich in cholesterol-lowering fiber, folate, and antioxidants.

Guacamole
Although this popular creamy avocado dip gets praised for its good fats, some recipes add preservatives, oils, and extra fats – making it very unhealthy. For example, a table-sized serving of guacamole at Chili's, a Tex-Mex restaurant chain, can set you back 1,500 calories.
"My recipe is primarily avocados, which are nutrient-rich and good for you," explained Sánchez. "We don't add in too many other ingredients and we always make our guacamole fresh."
Avocados are the golden health ticket in this dish; they contain a number of healthy nutrients like vitamin A, B, C, E, & K, copper, iron, phosphorus and magnesium.
Plus, a single avocado has about twice as much potassium as a banana (around 975 milligrams), which helps in controlling blood pressure levels.

Bean and Butternut Squash Picadillo
Another simple but satisfying staple of Latin American cuisine is picadillo.
Picadillo is typically made with ground beef, depending on the Latin decent. But in Sánchez's recipe, he uses a combination of hearty vegetables and a little bacon.
"Our picadillo is very healthy as well, it's made with black eyed peas, squash and some corn and cooked together very lightly with a little bit of chipotle," Sánchez said.
If you're looking for a little more substance, Sánchez suggests combining the picadillo with a little rice or a side of grilled steak or chicken.


Mestizo Margarita
For many of us, a fiesta is not complete without a few sips of a delicious margarita. But these tasty cocktails are high in both sugar and calories.
A single 8 ounce margarita contains about 450 calories – and its frozen counterpart clocks in at 700 calories. Furthermore, most pre-made alcoholic mixers contain a ton of salt—not to mention the sodium you add to the beverage just by salting the rim of your margarita glass.
"For lighter cocktails, it's best to stay away from syrups, try using fresh juices instead - lime juice and grapefruit are two of my favorites," Sánchez said. "My margarita uses agave nectar, which is a great sweet substitute instead of sugar."

Ingredients:
1 ½ oz. El Charro Silver Tequila
4 oz. margarita mix
Margarita Mix:
5 quarts lime juice
4 quarts agave nectar
3 quarts cold water
Directions:
Combine ingredients, shake vigorously. Pour into highball glass.

"To me, Cinco de Mayo is like any other holiday, and is all about being with friends and family and having great food," Sánchez said.
For more recipes visit chefaaronsanchez.com