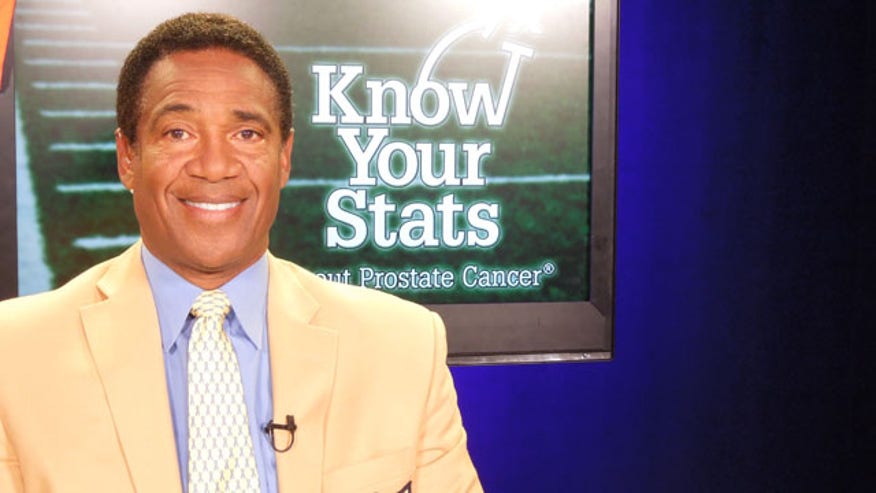 Did you know that one in six men sitting down to watch the Super Bowl this year will be diagnosed with prostate cancer?
For the fifth season, the NFL and the Urology Care Foundation are teaming up for the Know Your Stats campaign – an initiative to raise awareness and encourage men to know their prostate cancer risk. Prostate cancer is the second leading cause of cancer death in American men.
The campaign is led by some of the greatest players in football, like Hall of Famer Michael Haynes. The former Super Bowl champ won his own battle with prostate cancer and has been cancer-free for five years.
"Once the doctor told me I had prostate cancer, it wasn't until a month later that I asked, 'Well, what does the gland do?' I didn't even know it was related to a gland— I didn't know anything. I was totally in the dark," Haynes told FoxNews.com.
Haynes was diagnosed with the disease after he participated in a screening event conducted by the Urology Care Foundation at the Pro Football Hall of Fame in 2008.
As the Know Your Stats spokesperson, Haynes travels the country to educate and inspire men to understand their prostate cancer risk.
"There is so little knowledge about it, that's the scary part. We know that most men will likely get it, but men don't talk to men about it and fathers aren't talking to their sons about it," Haynes said. "Getting guys to talk about health is the effort for us and knowing the symptoms of prostate cancer will keep them alive a lot longer," he said.
"Every man at a certain age is at risk, but there are men who are at a higher risk," Dr. Scott Eggener, associate professor of urology at the University of Chicago told FoxNews.com.
The leading risk factors include age, race and family history. The disease is more likely in men above the age of 40 and in African-American men.
A family history of disease also increases risk. A man with a father, brother or son who has had prostate cancer is two to three times more likely to develop the disease.
"A large majority of men who don't have risk problems should still discuss getting tested with their doctor. There are a lot of young healthy men that aren't being tested that would benefit from being tested," Eggener said.
Haynes' mission is clear- get more men to talk to their doctors and ask about whether prostate cancer testing is right for them.
"I think guys are waiting for their doctors to tell them what they need to do, but they need to take the initiative and just ask about it, you need to take some responsibility too," he said.
While screenings are encouraged for men with higher risk factors, there are some symptoms advanced prostate cancers can cause, such as:
*Trouble having or keeping an erection
*Blood in the urine
*Pain in the spine, hips, ribs, or other bones
*Weakness or numbness in the legs or feet
*Loss of bladder or bowel control
Haynes has no plans to slow down his crusade against prostate cancer and looks forward to the day when everyone will know about the disease. He even hopes that during the month of September, which is prostate cancer awareness month, NFL players will someday wear blue patches on their uniforms just like they wear pink in October to support breast cancer awareness.
For more information please visit knowyourstats.org