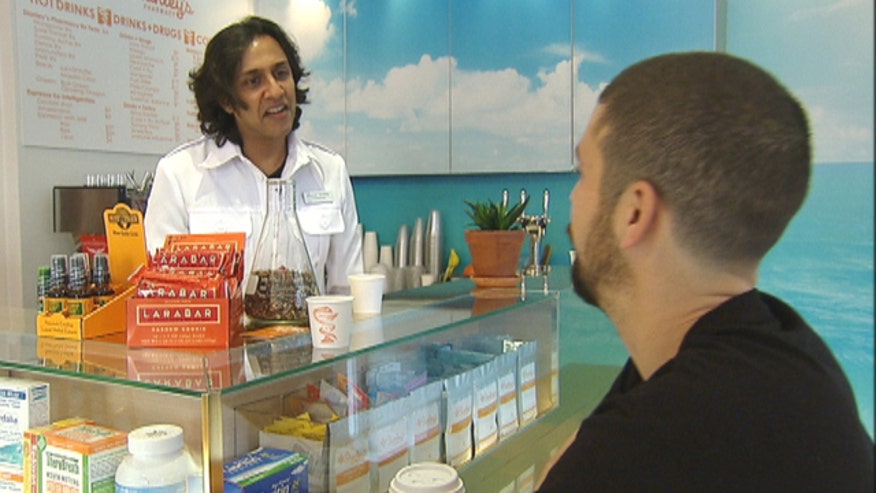 Sure, he can fill your prescription – but New York City pharmacist Stanley George can do much more than that at his brand new luxury pharmacy.
Located on Manhattan's Lower East Side, Stanley's Pharmacy blends both Eastern and Western medicine in an effort to help address customers' needs.
"I carry medicine just like any other pharmacy would," Stanley said. "And I also have this wellness bar where we have our own blended teas. We have kombucha coming out of the soda fountain here, we make our own sodas from scratch and I can customize drinks based on how you feel."
Stanley's signature "Drinks and Drugs," menu offers fixes for common ailments like a sore throat or PMS – or even a hangover.
It's this type of personalized care that keeps 36-year-old Joe DiNoto coming back. As a runner, DiNoto said Stanley has helped him come up with treatments that allow him to keep exercising without injury.
"I've noticed that my energy level is more consistent throughout the day," DiNoto said. "I also find that my aches and pains have been lessened due to decreased inflammation because of the tumeric tea. And, I don't know, (I'm) just overall more happy."
Stanley has been a pharmacist for 15 years and said his efforts to integrate natural medicine into his one-of-a-kind pharmacy is something his customers appreciate.
Monica Stewart, another customer at Stanley's Pharmacy, said she's now a big fan of trying natural remedies in conjunction with traditional medications.
"I never knew about any of that stuff before…It's really opened up my eyes to different healing ways," Stewart said.
For more information, or to try Stanley's tea blends, visit StanleysPharmacy.com.