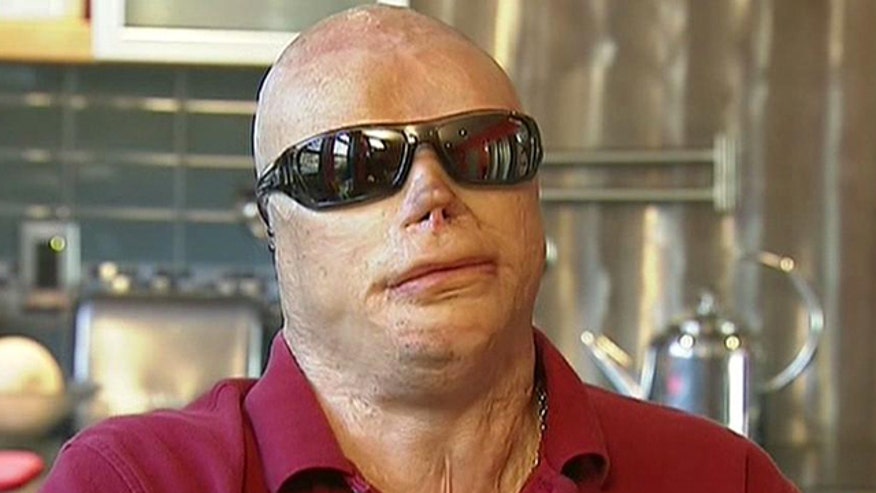 It's no struggle for most people to make a fist or lift a coffee mug. But for Joe Kinan of Lakeville, Mass., getting to that point has taken resilience, strength – and advancements in medical science.

On February 20th, 2003, Kinan was among a crowd of people trapped in a fire that occurred in The Station nightclub in West Warwick, Rhode Island. The fast-moving blaze claimed 100 lives and left more than 200 people injured.

Severely burned, Kinan has undergone more than 120 surgeries including a hand transplant. The procedure, performed just over a year ago, was the first of its kind for surgeons at Massachusetts General Hospital.

"Now there (are) quite a few things that I don't have to ask for help for, which is very empowering," Kinan said.

With his fiancée Carrie Pratt at his side, Kinan has completed a full year of physical therapy, doing drills to strengthen his new hand and gaining a new sense of independence.

"Just freedoms of every sort. To be able to come out here in the morning and pour my own cup of coffee without dragging Carrie out of bed for it speaks for itself," Kinan said .

Kinan and Pratt, a fellow burn survivor, met several years ago at the World Burn Conference in Vancouver, Canada.

"From the get-go he's been working hard at this," Pratt said. "Every chance he gets, he's moving his hand. He's picking stuff up. He's squeezing a tennis ball. He wants to make every moment count. He even wiggles his fingers in his sleep."

Kinan's new hand was donated by 18-year-old Troy Pappas, a freshman and star athlete at Bates College in Maine, who died last October after an accidental fall. When Pappas got his driver's license at age 16, he signed up to be an organ donor.

The first successful hand transplant was performed in the late 1990s, but the procedure remains very rare. It's estimated that fewer than 90 people have undergone a hand transplant worldwide.

Dr. Curtis Cetrulo Jr. led the team that spent fifteen hours attaching Kinan's new left hand.

"You have to choose your patient right," said Cetrulo, offering praise for Kinan's perseverance. "People were coming out of the woodwork all over the hospital who had cared for Joe and knew how tenacious he was and what a fighter he was and how compliant he would have been with the regimen post-operatively in taking his medications and working hard to get a good functional outcome, so his personality was almost a no-brainer."

While Kinan's spirit was never in doubt, the long surgery was particularly difficult because he is a burn survivor.

"There was skin graft only down to his fascia on his arm so we had to sort of come up with a creative technical solution to that problem and when we procured the allograft we took extra veins and extra tissues from the donor hand to allow the blood to flow out of that hand and back up his upper arm," said Cetrulo. "So, while he was a perfect patient from a social perspective, he was a difficult patient technically. But we were able to surmount those obstacles and it turned out for the best."

Cetrulo credits Kinan's dedication and tenacity, citing him as an inspiration.

"Really at the end of the day it's for his life, so he can do some of the things that he couldn't previously," said Cetrulo. "He always sends me new videos, popping up in my inbox, washing his car for the first time in 10 years or holding a cup of coffee or holding hands with Carrie, his fiancée, and these are the things that make it worthwhile to me."

It's been a long journey – one of fortitude, medical miracles and generous gifts – but soon that hand will hold new life.
Kinan and Pratt are expecting a baby.

Kinan works with fellow burn survivors and cares deeply about the work of the Phoenix Society for Burn Survivors: http://www.phoenix-society.org/
Molly Line joined Fox News Channel as a Boston-based correspondent in January 2006.