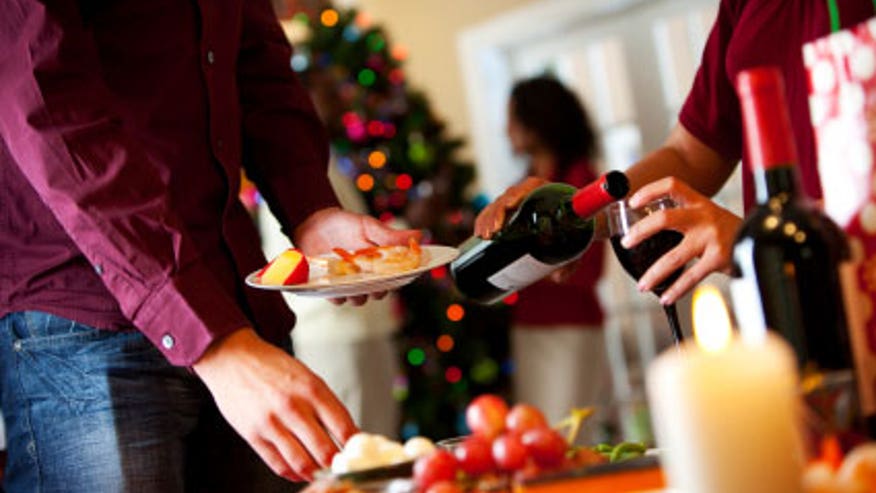 Tis the season for celebrating with delicious food! For some of us, food plays another role by helping us cope with holiday stress. Of course those extra bites, sips and secret nibbles aren't helpful in the end when they turn into extra pounds. Here are some ways to keep emotions and eating in check without missing any of the festivities:
Manage hunger
Hunger can trigger cravings so fill up on satisfying meals and snacks, and stick to regular eating patterns. Before you automatically pop something into your mouth rate how hungry you are on a scale of 1 to 5, with 1 being ravenous and 5 being full. Avoid idle or mindless eating by eating only when you're at a 4 or a 5. And drink plenty of water during the day because it's easy to confuse thirst with feeling hungry.
Tanya's tip: Eat a combination of protein and fiber at meals and at snack time because these nutrients fill you up on fewer calories and they digest slowly so you'll feel full longer. For example: grilled fish and a double side of steamed veggies is a light and filling meal, while some low fat cheese and whole grain crackers make a smart on-the-go snack.
Manage stress
Prevent an eating binge by doing what you can to avoid unnecessary stress, fatigue and boredom.
Tanya's tip: Set your priorities and plan your time around people and activities you enjoy. Don't feel obligated to say "yes" to every request, invitation or offer of food. Turn a blind eye to tempting foods you know spell trouble. Just keep them out of your house and ignore them at parties by socializing away from the buffet table.
Interrupt a craving
Neutralize a sudden craving by doing something positive that redirects your attention away from food.
Tanya's tip: Have a plan of action in mind. Call a friend, start a project, take a walk, take a bath, listen to music or grab something to read, play with your children, or get into your workout clothes and exercise.
Act, don't binge
The only problem food ever solved is hunger. If you are feeling upset or overwhelmed, deal directly with the problem rather than eat over it. Then pat yourself on the back for taking control of your emotions and the situation.
Tanya's tip: Think positively and visualize yourself as the healthy, in control person you want to be. Then take decisive action.
Enjoy yourself!
You don't have to deprive yourself of festive foods because you are watching your weight. At home prepare healthy versions of traditional recipes and when you are a guest offer to bring a healthy dish. Watch portion sizes and don't waste calories on anything you don't particularly enjoy. Go ahead and indulge in any dessert – just stick to three luscious bites.
Have a happy, healthy holiday!
For more recipes, plus great tips, delicious meal plans, and proven ways to lose weight and look great, be sure to check out my books: The Miracle Carb Diet: Make Calories and Fat Disappear – with fiber (Hyperion), and The F-Factor Diet (Putnam).
Tanya Zuckerbrot MS, RD, is a registered dietitian in private practice in New York City and the author of two bestselling books: The Miracle Carb Diet: Make Calories and Fat Disappear – with fiber (Hyperion), and The F-Factor Diet (Putnam). Follow Tanya on Facebook, Twitter and LinkedIn, and visit her website Ffactor.com. For nutrition news you can use, product tips, restaurant reviews and delicious recipes sign up for Tanya's weekly newsletter!