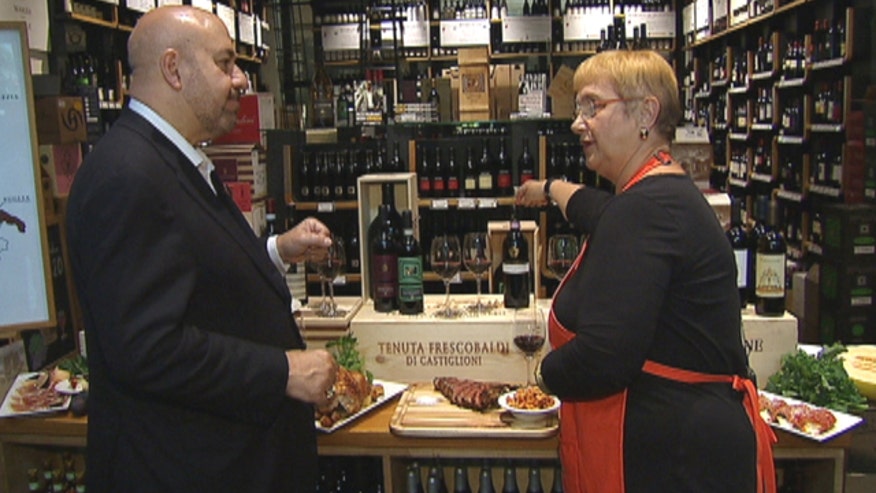 Drinking a glass of wine with dinner has numerous health benefits – but knowing how to pick the right type can be tricky. Dr. Manny Alvarez, managing health editor at FoxNews.com, talked to Lidia Bastianich, executive chef and co-owner of the marketplace Eataly in New York City, to find out how to decipher Italian wines.
According to Bastianich, there are several strategies for pairing food with wine.
"The most common is that you balance the two like good music…one supports the other and they're both delicious," Bastianich said. "It enhances the taste and it resets your pallet periodically to accept the next bite and so on."
In addition to enhancing flavor, there's another great reason to add wine to every dinner: The acidity in wines can help the body digest fat, according to Bastianich.
Italy has more than 20 regions and they all produce wine, which can make choosing the right type overwhelming.
Here, a quick primer:
Prefer whites? Look for bottles produced in the Friuli-Venezia Giulia region.
"The Friulano has a nice almondy finish. It has minerality, so what do you serve with it?" Bastianich said. "Prosciutto…You begin your meal with figs and prosciutto or a nice octopus salad. The acidity and the minerality of the Friulian whites are going to be just wonderful with that."
Love some bubbly? Wines from the Veneto region of Italy will hit the spot.
"It's known for its bubbles. So, it has the Prosecco and it has the Franciacorta," Bastianich said. "And the Prosecco is the wine that when you travel to Italy, you get in front of you, you didn't order it, but you get it."
That may be because Prosecco can help enhance the flavors of a meal.
"You get your tastebuds going, you get your salivary glands going. You prepare yourself," Bastianich said.
Want a red? The Piedmont region of Italy is known for its Barolo and Barbaresco wines, which in addition to being great to drink, are often used to braise meat.
"It's a lot of tannins, a lot of flavanoids… Full body. They're some of the best of Italian reds," Bastianich said.
For more on Italian wines, go to Eataly.com.