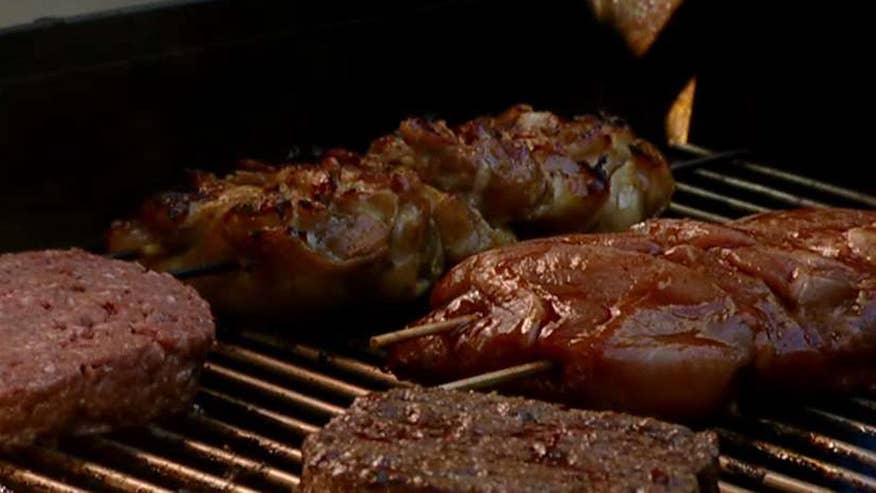 Memorial Day signals the start of summer and that means it's time to dust off the old gas grill or charcoal barbecue.
If you've missed the taste of succulent burgers, grilled fish and juicy ribs, these recipes will get your warm-weather get-together off to a delicious start.
LOVE HOT DOGS? YOU WON'T BELIEVE THESE FREAKY FACTS
We promise your taste buds won't be disappointed after tucking into one of these delicious dishes.
1.

The All-American Cheeseburger

Sometimes you just MUST have a burger. My personal favorite, is the Shake Shack burger, which reminds me a lot of the burgers I used to make as a teenager at the snack bar of the local golf course: thick, high-quality beef, real American cheese, chopped onions and a fluffy egg bread bun.

2.

Grilled Brandt Beef T-Bone with Lemongrass-Habanero, and Thai-Fried Potatoes

3.

World Championship Baby Back Ribs

This recipe comes to us from BBQ Pitmasters judge, Melissa Cookston. These ribs, which Cookston serves up at Memphis BBQ Co. with fellow grillmaster and co-owner John Wheeler, are the perfect way to kick off the summer.

4.

Shrimp Scampi Skewers

Shrimp Scampi Skewers give you everything you love about shrimp scampi, while making it even easier because they're prepared right on the grill. Buttery, garlicky, lemony shrimp layered on a skewer and popped on the grill for a delicious and easy summer dinner.

Recipe: Shrimp Scampi Skewers

5.

Grilled Skirt Steak with Horseradish Sauce

Beer is a great and healthy meat tenderizer and this recipe from Chef Works' consultant Alejandra Schrader calls for a full marinade infusion with garlic, herbs, and spices. Different types of beers will yield a new flavor result.

6.

Cheese Curd Pork and Beef Burgers with Lager Serrano Chili BBQ Dipping Sauce

7.

BBQ Tacos

Roll out the patio furniture and fire up the grills. Enjoy this twist on this traditional dish, which is sure to please the entire family.

Recipe: BBQ Tacos