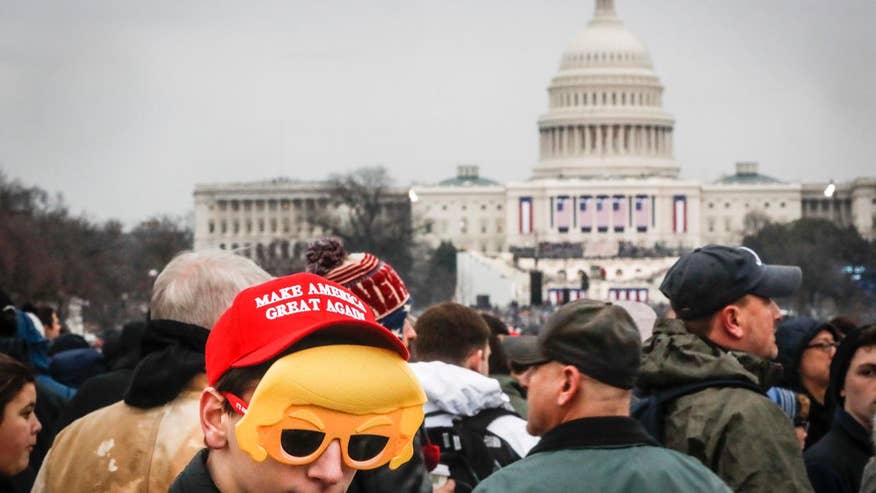 As President Donald J. Trump is sworn into office this weekend, many Washington D.C. area bars and restaurants are preparing for large crowds and long nights.
Every four years, inauguration weekend brings lots of tourists to the nation's capital, boosting the local hospitality industry. The city is expected to generate over $1 billion this weekend. In Washington, bars must usually close at 2 a.m. on weekdays and 3 a.m. on weekends. But during inauguration week, can apply for extensions to stay open until 4 a.m.
This year, however, only 108 establishments, including bars, hotels and restaurants are planning to extend their hours, down from the 280 bars that requested the extension in 2009 and the 160 bars in 2013, according to D.C.'s Alcoholic Beverage Regulation Administration.
Still, there's plenty of fun to be had this weekend if you're not going to one of the official Inaugural Balls Friday.
After a contentious election cycle, local restaurants are doing best efforts to attract new customers, such as Barrel, a restaurant with a Trump-themed bar. The basement features Donald Trump cardboard cutouts as well as drink specials highlighting some of Trump's most infamous moments.
More than 120 Washington, D.C., restaurants, bars, and shops are turning Trump's inauguration into a fundraiser for charities through the All In Service DC group by donating weekend proceeds to pro-LGBT groups and immigration support.
HOW TO GET AROUND DC DURING INAUGURATION WEEKEND
LGBTQ nonprofits such as Casa Ruby, The DC Center for the LGBT Community, Human rights Campaign, SMYAL, The Trevor Project and Whitman-Walker Health, are among some of the organizations that will benefit from the effort.
With hundreds of thousands flocking to D.C., the city will be packed with parties and places to pop some bottles.
Here's your guide to drinking and dining in D.C this weekend.
GRAB A COCKTAIL
Sudhouse - A mom and pop style bar with a humble and charming ambience, is offering $6 beer and shot combos or $5 mixed drink specials all day, on Jan. 20.
McClellan's Retreat - This bar honors the high-ranking Union commander, General McClellan and offers patrons a place to retreat, rest and of course drink. The bar will be open from 1 p.m. until 3 a.m. after the inauguration, serving cocktails from its Top 12 cocktails of 2016 specialty list.
We're open, and what nice weather to start day-drinking! We open at 1pm tomorrow & Friday, as well. #InaugurationWeek #Its5oclocksomewhere pic.twitter.com/WIVCslOzCb

— McClellan's Retreat (@McCRetreat) January 18, 2017
Ripple - This restaurant and bar normally offers a locally-sourced menu featuring seasonal ingredients, as well as over 50 wines by the glass. On inauguration day, Ripple is offering half-off bottles of wine as well as a free snack with any beverage purchased at the bar from 5 p.m. to closing on Jan 20.
Black Winter Truffles at @RippleWDC all weekend? Happy Friday, indeed! #truffles #TGIF pic.twitter.com/92sybrrShh

— Ripple DC (@RippleWDC) January 13, 2017
Art & Soul - Located just two blocks away from the Capitol, this eatery serves "simple, honest food" with Southern hospitality. The bar is heating its tented patio from Jan. 18 to 22, offering its regular menu as well as boozy hot chocolate selections and cozy cocktails to knock off the chill.
WHEN HUNGER HITS
Carmine's - The popular family style restaurant is serving an Inauguration Day continental buffet as well as a sit-down breakfast. The restaurant opens at 7 a.m. and is offering an early happy hour starting at 11:30 a.m.
Declaration - Known for its gourmet style pizzas with ingredients from the region's most eco-friendly farms. On Jan. 20 indulge in unlimited Brooklyn and margherita pizzas, American mule cocktails and draft beer for $35 a patron.
Bar Deco – This art deco-inspired bar is offering cocktails for $10, Bud drafts for $4 and for some late-night munchies, try The Trump, The Obama, and The Roosevelt sandwiches until 2 a.m.
Did you know: Heavy rationing during WWII lead FDR to serve 2,000 guests chicken salad sandwiches with lots more celery than chicken! pic.twitter.com/wmXjtONcCV

— Bar Deco (@BarDecoDC) January 20, 2017
FOR THE LATEST FOOD FEATURES FOLLOW FOX ON FACEBOOK
Alfa Piehouse - The fast and casual Greek concept, just steps away from the White House is extending its hours from 7 a.m. to 6 p.m. on Jan 20, offering inauguration day specials including an 8-ounce La Colombe drip coffee and freshly-made mini phyllo pies for $1.20.
🇺🇸 Toasty American breakfast sandwiches with free #LaColombe drip coffee! Or drip coffee + mini phyllo pie $1.20 for #InaugurationDay! #DC pic.twitter.com/MdwfmgPcKY

— Alfa PieHouse (@alfaPieHouse) January 20, 2017
GOT A SWEET TOOTH?
Le Diplomate - Feeling fancy? This popular French café with an extensive menu, offering everything from croissants to escargots and apple tarte tatin. On Jan. 20 and Jan.21, the popular sidewalk glace cart is offering warm cups of peppermint chocolat chaud for $13 and hot coffee for $4, as well as seasonal glace flavors. The kitchen and bar will be open one hour later Thursday through Sunday on Inauguration Weekend.