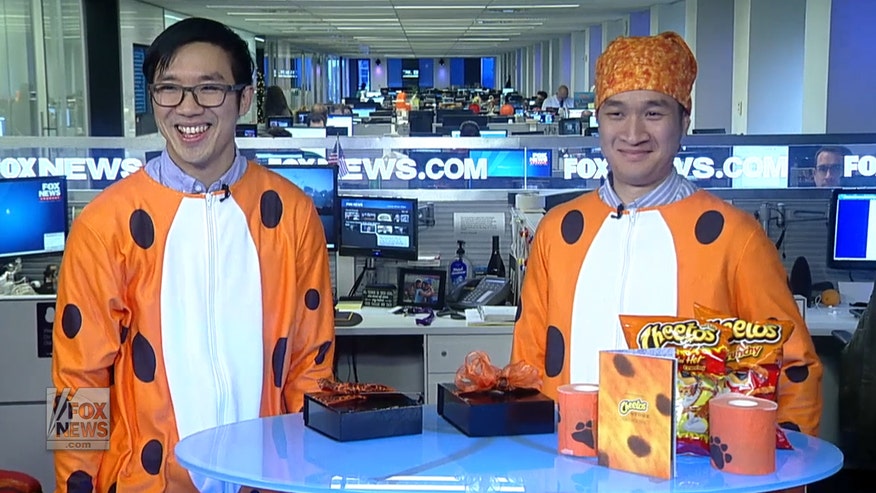 This winter, deck the halls with red, green, white…and orange?
Cheetos is capitalizing on the viral product marketing game with its first-ever holiday catalog featuring wacky wearable—and usable—novelty items.
There's a "Dangerously Silky" paw print scarf that retails for $54.99, a bright orange speedo ($29.99) and Chester Cheetah's High Top Slippers ($29.99).
PEOPLE ACTUALLY WANT TO SMELL LIKE KFC'S FRIED CHICKEN
Two of the wackiest items—which have since sold out—are actually beauty products.
"Colour de Cheetos Bronzer" is a bright orange blusher while Cheeteau Perfume has a scent that one lucky tester described as "Cheetos crumbs sprinkled on top of vanilla ice cream." Neither the bronzer nor perfume are edible.
The most extravagant gift featured in this year's catalog was an 18 karat yellow gold ring and earring set with orange sapphires and both black and white diamonds. "You will be the envy of the universe with Eye of the Cheetah from the Chestora Collection," reads the item's description.
The set sold for $20,000 within a few days of being posted online. A representative for Cheetos told FoxNews.com that the brand made just one set this year.
MAN SENTENCED TO JAIL FOR USING CHEETOS TO START FIRE
Though many of the items are now gone, some products have appeared on eBay (though their authenticity is not guaranteed)-- at exorbitantly marked up prices. The Onesie, for example, that originally sold online for $39.99 is now going for up to $349 on the auction site.
But there's one particularly unusual gift still in stock that is sure to guarantee a more colorful bathroom experience.
Six rolls of bright orange "Toilet Paw-per" can be yours for just $7.99.