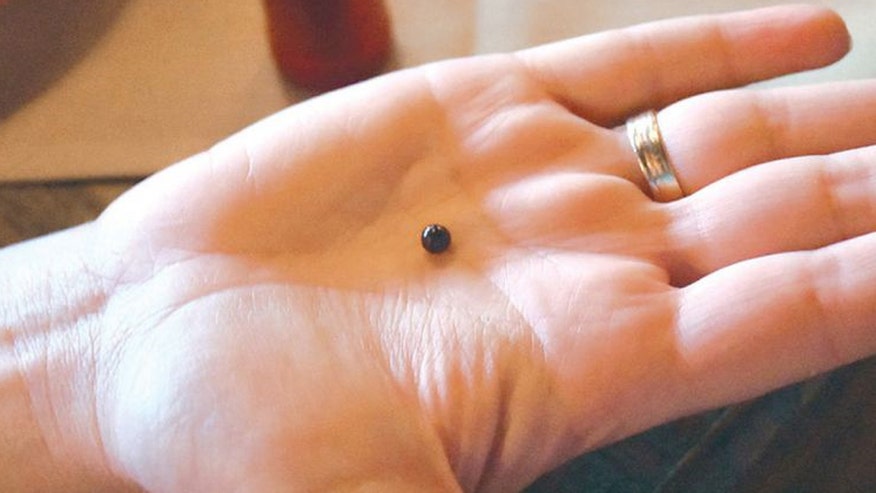 When Lindsay Hasz bit into her medley of seafood and shellfish at Montalcino Ristorante Italiano in Issaquah, Wash., she thought she might have broken a tooth. The culprit: a small, purple pebble-like object embedded in one of her clams.
"It was quite jarring," Hasz tells KOMO News. At first she thought a cook had dropped a piece of jewelry. Back at home, however, she found news articles about others finding a Quahog purple pearl in their food—and her deep purple sphere looked identical.
When she took it to gemologist Ted Irwin, "he thought it looked so round and perfect that someone was playing a joke on me," Hasz says.
Irwin soon confirmed Hasz had a 1-carat, gem-quality Quahog pearl, almost perfectly symmetrical, worth about $600. Quahog clams, most often found along the East Coast, don't produce many pearls and "one in a couple million is of gem quality, so it is a very rare occurrence," Irwin says.
Hasz isn't planning to sell the pearl, though; she plans to make a necklace. "I have a fun story to tell," she says. The restaurant owner was certainly surprised when Hasz called to tell her about the pearl a few days after her meal, per the Issaquah Press.
"It shows we serve nothing but the best," she says. (The same thing happened to a Florida couple.)
This article originally appeared on Newser: Woman Finds Rare Pearl in Clam Dish
More From Newser