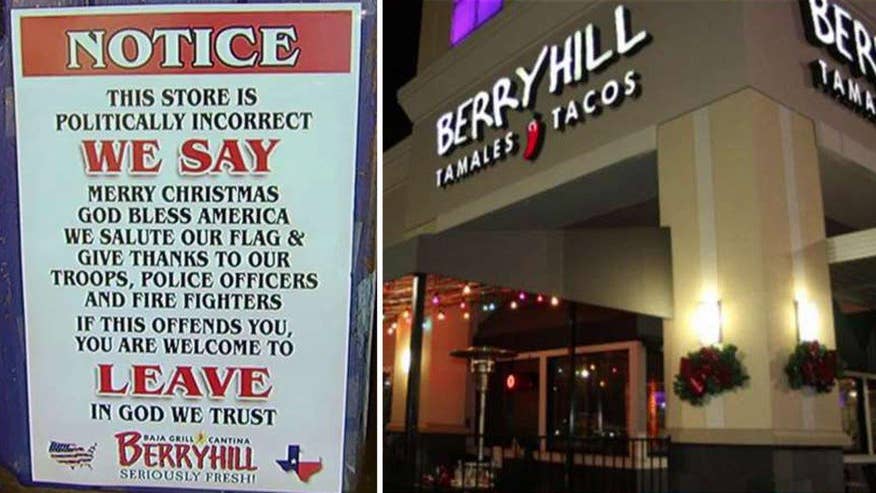 A Houston-based restaurant chain has declared itself "politically incorrect" in the spirit of Christmas.
Two weeks ago, five locations of Berryhill Baja Grill posted signs on its respective restaurant doors, warning individuals that staff may greet them with "Merry Christmas" or say "God bless America."
The signs read: "Notice. This store is politically incorrect. We say Merry Christmas. God bless America. We salute our flag and give thanks to our troops, police officers and firefighters. If this offends you, you are welcome to leave. In God we trust."
Berryhill CEO Jeff Anon directed staff at the franchise locations to post the signs after becoming fed up with what he believed to be anti-Christmas sentiments around the holiday-- the last straw was Starbucks' decision to put out generic red cups this year, reports KTRK.

"I don't think anybody means anything bad or mean when they say Merry Christmas, and I just thought somebody had to stand up and say enough of this," Anon said.
According to the restaurant CEO, some signs have disappeared from restaurants—reportedly taken by customers who were offended. The staff will quickly replace any notices that have been torn down.
"I'd say for every one who felt it wasn't appropriate, probably 10 to 20 who...supported it," Anon said, acknowledging that there have been some complaints.
But many have re-Tweeted or re-posted the sign on social media, voicing their support of the restaurant's anti-politically correct mission in the spirit of Christmas and religion.
"I just got tired of all the news of everybody having to be politically correct," Berryhill Baja Grill CEO Jeff Anon told ABC News. Me too, Jeff...me too.

Posted by Scott Seewald on Wednesday, December 23, 2015
Apparently I need to start dining more regularly at @berryhillbaja: https://t.co/efbaVnm3tz

— Michael Q Sullivan (@MQSullivan) December 23, 2015
I have to give a huge Thank you to the Berryhill Baja Grill restaurant chain in Texas love the politically incorrect signage!!!! I wish there was a restaurant in this area I would definitely eat there!!!

Posted by Tracy Rieken Sublett on Wednesday, December 23, 2015
Anon says customers have even asked for a copy of the sign that they could take home with them.