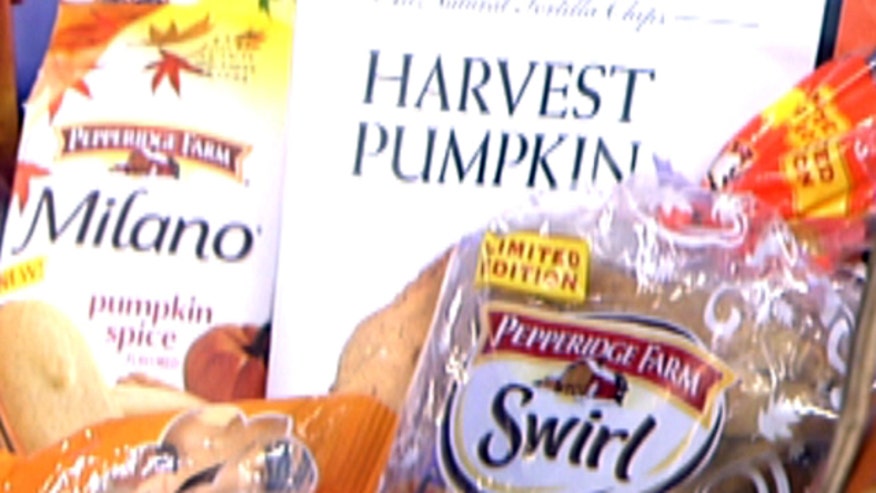 Even though it's technically still summer, pumpkin spice mode is already in full swing.
But before you roll your eyes, there's something to be excited about this year as food purveyors try to spice things by adding real pumpkin to new products.
Starbucks' Pumpkin Spice Latte--the chains most popular seasonal beverage of all time--just launched a new version with real pumpkin following complaints by customers upset about the drink's artificial flavors. Panera also announced a similar move.
The switch to incorporate the real deal in seasonal pumpkin treats has spread to cookies, muffins, breakfast foods and more.
Pepperidge Farm's Pumpkin Spice Swirl bread and Pumpkin Cheesecake cookie are both made with actual pumpkin. Others include Ben & Jerry's Pumpkin Cheesecake Ice Cream and Cedar's Foods "limited edition" pumpkin spice hummus.
Thomas' Breads also has a limited-edition English Muffin and a Pumpkin Spice Bagel --both containing real pumpkin puree. Jon Silvon, senior director of its breakfast portfolio, says consumers are looking for food with less artificial ingredients.
"The popularity of pumpkin flavors has continued to grow over the past several years, and consumers expect these products to be made with real pumpkin— and we wanted to deliver on their expectation."
So now that these companies are delivering, how do these products taste?
We brought in two guys who know a thing or two about pumpkins.
Master carvers Marc Evan and Chris Soria started Maniac Pumpkin Carvers in 2008. The Brooklyn-based duo have carved their way to the top of the food sculpture world with their intricate designs and epic 3-D figures. After their first big job creating 50 pumpkins for the New York Yankees during the World Series, Maniac was a booming business. Today, the team now oversees a shop of about 10 carvers.
"Pumpkins are definitely hot right now," Soria says. "They used to be just about Halloween but with the rise of pumpkin spice and carvers like us, it's become a fall seasonal thing which is definitely exciting."
During the busy season (late September through November), Evan estimates their shop goes through about 500 pumpkins-- Most come from Sycamore farms in New York-- with the biggest they've carved tipping the scales at 1,800 pounds. With all that pumpkin, they try to make good use out of what gets scooped out.
"I love pumpkin in my food," Evan said. "We can't save all the pumpkin we use but we love roasting the seeds or [eating] fresh baked pumpkin bread."
We decided to make it a game to see if they could pick out the products with real pumpkin.
We gave them three samples to try: A Pumpkin Pie Pop-Tart with real pumpkin, the Pepperidge Farm's Pumpkin Spice Milanos with no pumpkin and Ben & Jerry's Pumpkin Cheesecake Ice Cream with the real deal.
First up was the Pumpkin Pie Pop-Tart.
"This is definitely sugary," said Soria after the first bite.
The Pop-Tarts have a deep orange filling that has the right consistency and texture-- but the sugar over powered whatever pumpkin taste there was. Our conclusion: We wished they would have let the pumpkin flavor shine through.
Next was the Pepperidge Farm's Pumpkin Spice Milanos.
"I like this better because it's less sweet," said Evan. But he guessed correctly that the pumpkin flavoring was artificial. Still chocolate lovers will enjoy this seasonal take on the classic cookie.
Finally, it was Ben & Jerry's Pumpkin Cheesecake Ice Cream.
Soria couldn't detect the authentic pumpkin inside (Evan tasted it right away), but both carvers agreed it tasted like fall in the most delicious way. Hands down, it was the favorite of our tasters.
So the next time you get annoyed that the aisles this time of year are overrun with pumpkin spice flavored foods, keep in mind that's because people keep buying them.