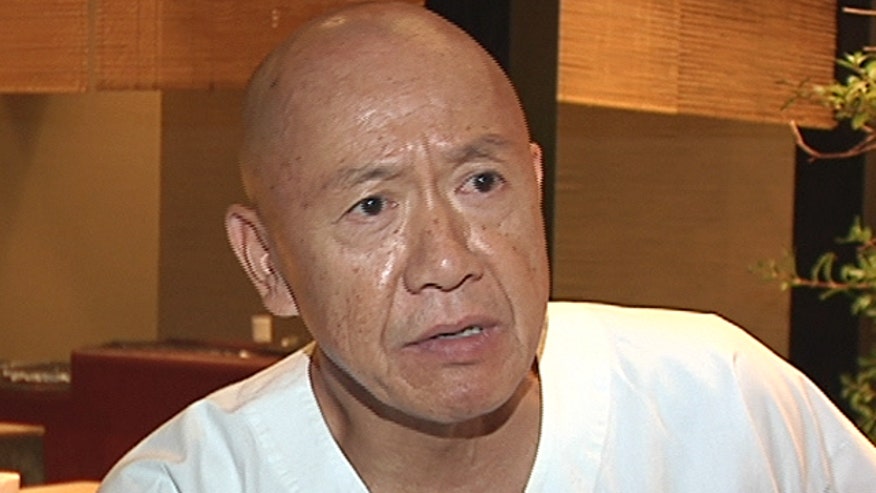 Sushi is so common today that it's even in grocery stores. But 30 years ago, Americans had barely heard of this Japanese mainstay … until a chef named Masayoshi Takayama brought more than spicy tuna and California rolls to the West Coast.
Takayama – his legions of fans know him simply as "Masa" – now owns the renowned sushi restaurant in New York City that bears his name. At Masa, the food isn't just a meal – it's a dining experience, a place where customers can taste the master chef's artfully displayed rare foods. And rare doesn't come cheap; a couple can easily spend $1,500 there.
‪Masa says staying true to the art of sushi has been the key to his success.
‪His love of seafood began when he was a boy in Japan, working at his family's fish company right outside of Tokyo. Seeing it every day as a child made "sashimi and sushi personal," he says, and it launched his love for the ingredients.
‪But Japanese tradition requires that sushi chefs go through a decades-long apprenticeship before they can earn the title of chef, and Masa took the traditional path, cleaning bathroom floors and washing dishes as an apprentice in some of Tokyo's finest restaurants.
He remembers having "no money, no salary, just enough to survive and learn," and it took five years before he was even allowed in front of customers. But once he was, he knew there was no turning back. Working at the sushi counter is "like a stage, like Broadway," he says.
Masa moved to Los Angeles in 1980, and seven years later he opened Ginza Sushi-ko, which became one of the city's most coveted reservations. The restaurant has been credited with the rise in sushi's popularity not just in L.A., but throughout the U.S.
As his reputation grew, Masa moved to a larger space in Beverly Hills. But in 2004, after a call from acclaimed chef Thomas Keller, owner of French Laundry, Masa moved to New York. His restaurant on the East Coast quickly became as popular as the one he'd owned in L.A., and in 2008it became the first Japanese restaurant in America to receive the culinary world's highest honor – three Michelin stars.
‪‪Today Masa is still evolving, from designing the dishware (he makes pottery, too) to opening restaurants from Las Vegas to Dubai.
‪‪"This is my passion and energy," he says. "I don't want to stay in the same spot. I like to move always to something new, but still keep the Japanese technique, the Japanese flavor."