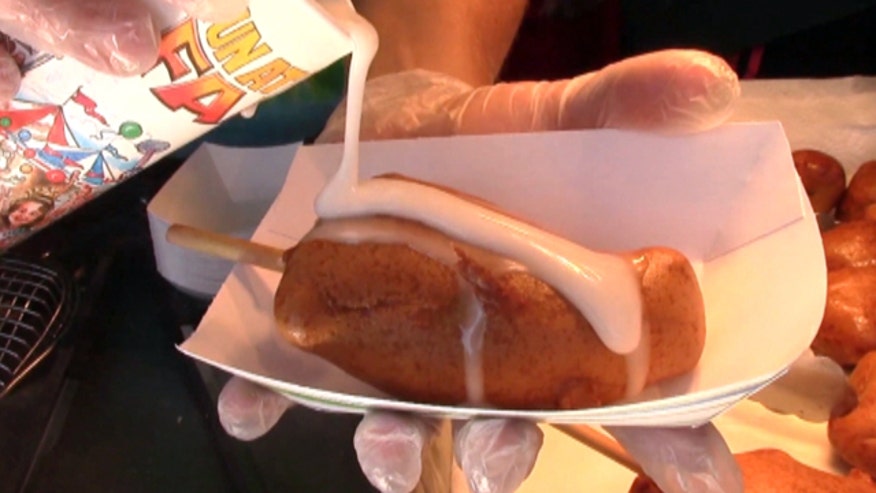 Classic fried food gets a twist at the Iowa State Fair, but the best finds are on a stick.
There are 16 new foods this year at the fair that run the gauntlet from the half-pound Ultimate Bacon Brisket Bomb (smoked brisket infused with jalapeño, cheese, onion, and seasonings wrapped with bacon), to apple pie on a stick served with a side of caramel and apple wedges, to ultra-cold canned beer served at a temperature of least 27 degrees Fahrenheit.
Six of the new items, including the Brisket Bomb, come on a stick – pushing the fair's "Food on a Stick" count to over 70 different items, ensuring you'll always have something easy to snack on.
The unusual items helping lure in over a million visitors last year and generating revenues of more than $14 million on food and beverage sales alone. There are nearly 200 food vendors at the fair, peddling classics like strawberry lemonade, deep fried butter, corn dogs and ethnic cuisine like Mexican and Chinese.
But it's the new fare that gets all the attention. A New Fair Food Contest is held every year among the newcomers – one of 228 different food competitions at the fair. Voting started Thursday online, the first day of the fair, and runs for five days. Before the general vote, judges get together in before the fair to taste test the new foods and determine the finalists for the competition.
Apart from taste, presentation and value are also important.
"You have to try to keep things reasonably priced," says Mindy Williamson, marketing director at the Iowa State Fair. "For the serving size, is that worth three dollars, or is that worth six dollars? When it's judged, they do look at those things."
The gourmet Corn in a Cup- billed as the "Caviar of Iowa" and mixed with pork chorizo is one of three top contenders- along with the Toasted Coconut Caramel Cluster, which is toasted coconut, caramel fudge and bits of pretzel, and the Ultimate Bacon Brisket Bomb.
"They smoke for two and a half hours at 250 degrees," says Joni Bell, owner of the Rib Shack and creator of the Brisket Bomb. "Once they're done smoked, then they're going to get tossed in a sweet chili sauce. Then they get broiled off in the oven."
If the Brisket Bomb wins, it'll be the first time in state fair history that the same vendor wins twice in a row. The Rib Shack was the creator of last year's winning new item, the Smoked Brisket and Bacon Mac and Cheese.
For dessert, there's the deep-fried Cherry Pie on a stick. A slice of pie is frozen onto a stick to prevent it from sliding off, then dipped into batter and thrust into boiling oil. Once it's done, the already-decadent dessert is taken to a whole new level by being doused liberally with frosting.
"I've got a grandson that loves cherry pie, and screams cherry pie," says deep-fried pie creator Terri Shell. "So when we were trying to come up with something, he came up with it."
These are not low calorie items. The Brisket Bomb clocks in at 640 calories, while the Cherry Pie's frosting pushes its calorie count to 720. But the most calorie-rich food by far is a serving of the deep-fried Nacho Balls at 1650 calories, which also includes 157 percent of a day's worth of sodium and over 170% of a day's worth of fat.
It's probably a good thing that the fair comes around only once a year.