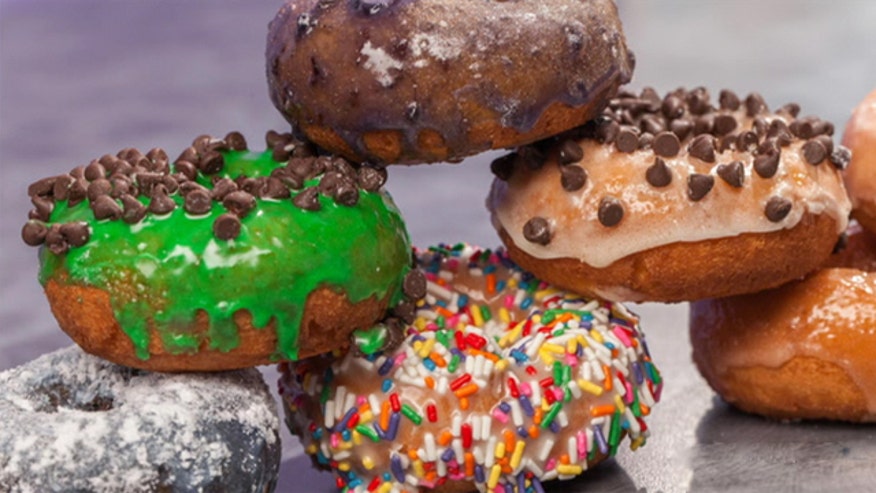 To Homer Simpson, this is a dream come true.
Wacky donut shops like Hypnotic in Dallas and Voodoo Doughnuts—which is probably best known for its breakfast cereal crusted offerings—have expanded locations across the country.
But when it comes to donuts--and what you can put on top and inside them--is there a possibility for overkill?
"I don't think there's such a thing as too much with donuts," said Michael Krondl, food historian and author of The Donut: History, Recipes, and Lore from Boston to Berlin. "But always make sure it's really fresh."
One fast growing made-to-order donut chain has capitalized on the customize food trend and lets customer make their own flavored treat.
Fractured Prune first opened in Ocean City, Md. in 1976 when the original owner, Tom Parshall, researched the history of the property and found it was once owned in the 1800s by sports-lover Prunella Shriek who always came home with broken limbs.
In its early days, Fractured Prune offered less than a handful of customized options. Today, customers can pick from 19 different glazes and 13 toppings—which amounts to over 150,000 possible combinations.
In 2012, there were 11 stores based along the Northeast. But after current CEO Dan Brinton took over in 2013, Prune has grown into a rapidly expanding franchise with 27 locations across the country. By 2016, the company expects to open 77 locations.
Every donut starts out with the same cake base. Customers pick the fillings and toppings and can watch the pastry being assembled, something Brinton says has been important to the success of the chain.
"Today, customers want to see what's going into their food, which is why the popularity of Chipotle and other quick-service concepts are excelling right now," Brinton told FoxNews.com via email. "Everyone wants to see the ingredients, they want to choose their toppings and make their own dish… They [customers] love to see the doughnut machine making their treat in front of their eyes."
Some of their most popular combinations include O.C. Sand—a honey glaze with cinnamon sugar and S'mores—marshmallow glaze with crumbled graham crackers and mini chocolate chips.
But do the souped-up toppings and flavors work?
Krondl said that he found the cake donut fell short.
"This probably would have been great six hours ago," Krondl said after tasting French Toast with Bacon. " But I feel as though the glaze just gets lost in the cake donut and a yeast donut just works better with complicated toppings."
Other tasters were not fans of the "artificial tasting" glazes. The favorite of the bunch were the relatively simple O.C. Sand and French Toast-- with or without the bacon. But the novelty of the bright colors and bacon crumbles had everyone going in for a second or third try.
"From a purely visual perspective, the box presentation is just great looking," Krondl said. "This would probably be great for a party."
And when it comes to DIY flavors, he says, bring it on.
Ultimately, Krondl believes that these donuts are probably best enjoyed hot from fryer, right in the shop--just as Fractured Prune intends.