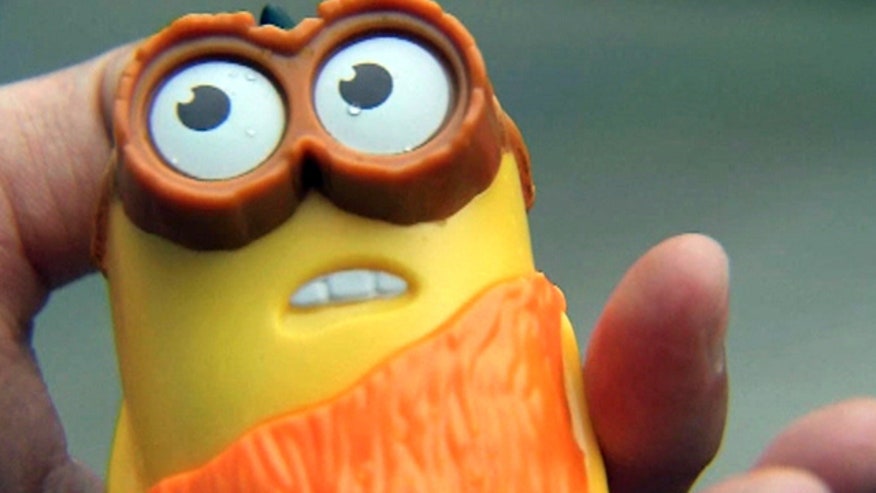 Either this is a brilliant marketing campaign or McDonald's has egg on its face.
Customers have complained that a talking minions toy included in recent Happy Meals uses curse words.
Alexis Hernandez said her 5-year-old daughter, Julissa, opened up the minion toy from her McDonald's Happy Meal while she was sitting in the back seat of their car and what they heard immediately got their attention.
Hernandez said she heard, "What the F-," (expletive) followed by "All be damned." The little girl's grandmother thought Julissa said it at first. "She said, 'no that wasn't me, that's the minion, that's the toy,'" Hernandez told FOX 13.
The fast-food restaurant introduced a Happy Meal on July 3 with toys inspired by the movie "Minions" that spits out three phrases when you tap it on a hard surface.
McDonald's released a statement and confirmed that some customers have complained but insists that the small yellow figures are speaking only nonsense words, nothing offensive or profane.
The statement says "a very small number of customers" have been in touch with the company about the toy.
"Minions," a prequel of the "Despicable Me" movies, premieres Friday.
And here's another minion treat that isn't leaving a bad taste in kids' mouths: minions cereal. Get the scoop on how this tastes from our very own kid taste tester.