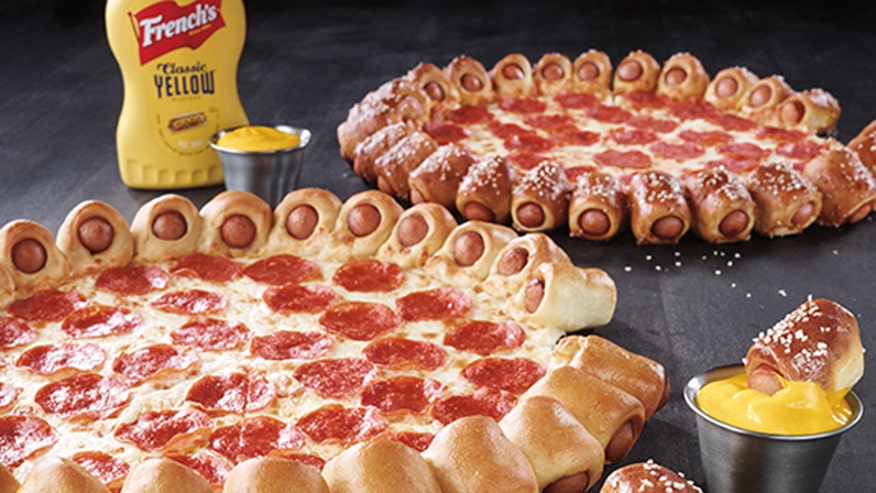 Last week, the U.S. welcomed Pizza Hut's new Hot Dog Bites Pizza—a new iteration of its hot dog stuffed crust pizza already available in the U.K.
The large pizza comes with any topping of your choice—all ringed by 28 mini hot dogs and a side of French's classic yellow mustard for dipping.
It's an amazing looking mashup. After just seeing the pizza, surrounded by a crust of pigs-in-a-blanket sticking out like fat little fingers, our tasters became giddy.
We chose to rip off the hot dog bites first, which comes in crust of either plain or pretzel-- which is really just plain with rock salt. The hot dog bites are chewier and meatier than a traditional pig-in-a-blanket, and while you won't want to substitute these wieners for your summer cookout (they don't snap), we found them pretty tasty.
We also loved tasting a little bit of hot dog while you work on the pizza itself. Plus, we also learned that mustard is a pretty good condiment for pepperoni pizza.
The biggest problem overall: Too much bread. Each slice of pizza contains three to four hot dog bites and after chewing your way through those, the idea of more bread is a bit onerous. And after eating the crust, grabbing on to the remaining cheesy pizza is a bit messy.
But do people really want a hot dog ringed pizza? Yes, says Pizza Hut.
"The Hot Dog/Pizza combination has easily been one of the most popular overseas – but we did tweak it slightly before bringing it to America," Doug Terfehr, Pizza Hut's director of public relations, told Chew on This. "Our research indicated that fans in the U.S. wanted to interact with these two popular foods in a different way. They wanted to be able to enjoy then separately or together, which is why the popable bites option was developed."
In the U.K., the hot dog crust pizza is really a long sausage threaded throughout the crust to make one continuous, meaty ring. The U.S. version has separate mini dogs that are easier to share, but are placed on top of the crust rather than stuffed in it.
The Hot Dogs Bites Pizzas are an attempt by Pizza Hut to boost flagging sales, especially after other attempts including its gourmet-infused "Flavor of Now" menu.
So far, it has had an enthusiastic reception. Terfehr said that at one Texas location, two-thirds of the first 30 customers of the day ordered a Hot Dogs Bites pizza.
A large Hot Dog Bites Pizza goes for $11.99 and will be available at select restaurant locations while supplies last.