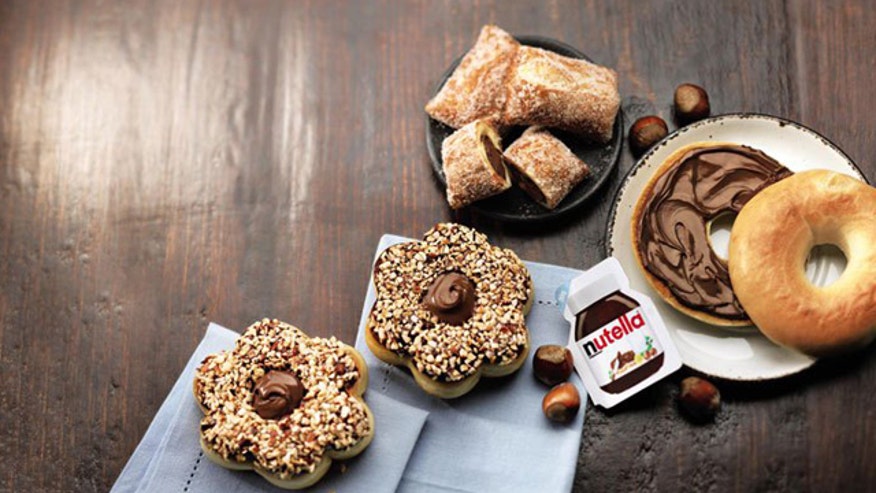 Nutella may be everywhere but people aren't sick of it yet—at least Tim Horton's doesn't think so.
Fresh off its merger with fast-food giant Burger King, the Canadian chain has introduced a line of bakery treats infused with the world famous chocolate hazelnut spread.
It includes donuts filled with Nutella, along with the option to order Nutella spread on a bagel and Nutella pastry pockets, and will be available at U.S. locations starting this week.
The new spread-infused treats were a joint collaboration between the coffee shop and Ferrero, Nutella's parent company.
We've tried a lot of Nutella treats recently, including Carvel's line of ice cream treats and a wickedly unique Nutelasagna made with real lasagna noodles.
So how do these new bites compare?
The Chocolate Hazelnut Donut filled with Nutella is definitely the most elaborate pastry of the bunch. A flower shaped donut is frosted with chocolate and sprinkled with chopped hazelnuts and the center is then stuffed with a blob of pure Nutella. It's a pretty looking pastry—especially for anyone craving a real Nutella fix—but some on our team found it a little plain.
"I was expecting the actual donut itself to be Nutella flavored," one taster commented.
The taste is like a plain yeast donut spread with Nutella—something we could recreate at home. Same with the bagel.
But the star of the show is undoubtedly the pastry pockets filled with Nutella. Think of a mini chocolate croissant, dusted with sugar in a perfectly portable package. If you missed out on Dominique Ansel's limited edition Nutella filled Cronut Holes, these are a worthy replacement.
The exterior sugar makes this a bit messy but adds a subtle crustiness to the flaky pastry within. The Nutella just melts in your mouth but we recommend warming these up for a seconds in the microwave for a truly decadent way to start your day.
Too bad bikini season is almost here—these will be a real temptation.