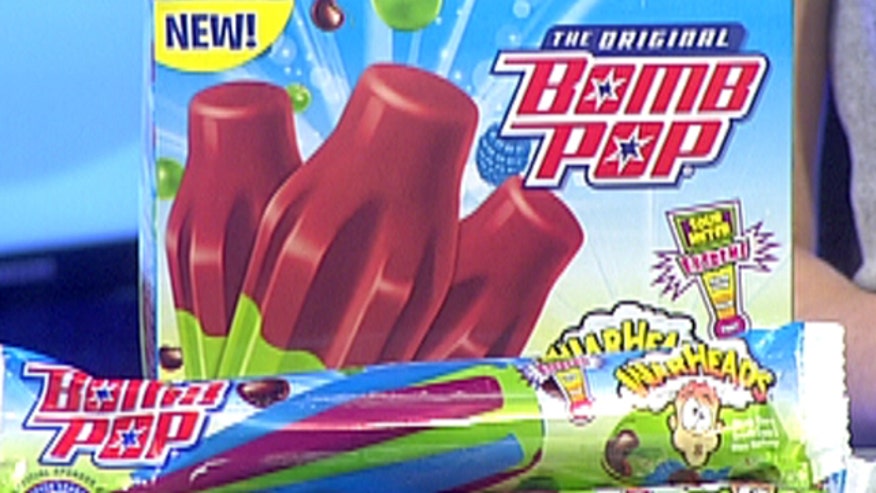 As the weather heats up, more cold treats are hitting store shelves.
This year, companies that dream up frozen goodies are looking to the candy aisle for some inspiration. Popsicle—the company behind the classic cherry red, purple grape, and orange-orange pops—recently unveiled a Tootsie-chocolate filled popsicle and a Sour Patch Kids ice pop.
But we found one frozen treat that will have your eyes watering and your lips puckering. Bomb Pop, the makers of the red, white and blue ice-pop, has just released a Warheads flavored pop that may even beat the candy on an extreme sour scale.
"We're seeing this [sour] flavor profile trending among a number of categories within the food and beverage spaces," Chad Stelter, Brand Manager for Bomb Pop, told FoxNews.com via email. "Noticing the increase in the sour trend was a big driver for partnering with Warheads, one of the most notable sour brands. "
Bomb Pop is all about the multiple flavor experience. In addition to the patriotic pop, the company has released Jolly Rancher and Hawaiian Punch flavored pops with multiple flavor layers. For the Warheads inspired stick, the company used three of the most popular flavors—Blue Raspberry, Green Apple and Black Cherry.
So how sour can they really be?
This ice-pop is so sour that we could barely taste the fruit flavor between each lick. It's so sour that it's almost salty. But that's a truly authentic Warhead experience, right? Once your mouth adapts to the cold, it's pretty refreshing but don't expect the sour to let up the further down you go. Unlike the candy, the center isn't sweeter so it's a super sour experience from start to finish.
The grocery store version is about half the size of the ice-cream truck pop—which has sweeter swirls of blue raspberry and black cherry around the green apple center. We detected a hint of fruit flavor-- most similar to a green apple Warhead.
Adults may appreciate the nostalgia aspect of these frozen treats, but Bomp Pop says these lip-puckering pops really appeal to a younger set.
"Both brands have a major tween fan base, and we have been seeing a lot of social media interaction from them expressing their excitement about the new product," Stelter said. One of the company's mobile distributors has been capturing kids' reactions as they try the pop with hilarious reactions.
"Their facial expressions say it all!" Stelter says. And yours will too if you're brave enough to pucker up to one of these pops.