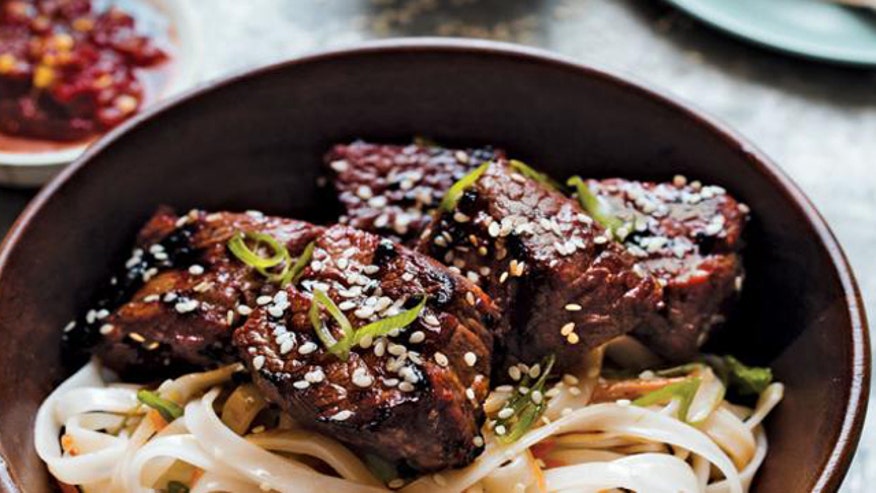 Spring is only days away and while many people can't wait to grill outdoors again, there might be ways to get those same flavors cooking inside.
Travel Channel star and New Orleans-born chef David Guas came in to show us his secret ingredient to boost his indoor BBQ flavor: honey.
"Honey does some pretty magical things on the grill … it can be incorporated into some [indoor] recipes," says Guas, who is also spokesperson for the National Honey Board.
It's not just about adding sweetness to your meal.
Honey acts like a binder in dishes, adds moisture and helps to balance acidity, he explains.
When grilling indoors, try using cast-iron grills.
"Indoor grilling is a different beast, strongly suggest using cast-iron, having proper ventilation … or being close enough to the side door where you can air out because there is going to be some smoke created," says Guas.
He suggests cooking larger pieces of protein like double-cut pork chops and thick cut steaks first on the grill then in the oven to get the perfect internal temperature.
Beyond honey, make sure to use fresh vegetables and herbs to enhance the flavor. "This time of year as we get ready for spring for me it's all about vegetables – one of the most underestimated things on the grill," says Guas.
Guas shared three favorite meals featuring honey.
First, the Asian grilled tri-tip. "It's got some soy, sesame oil so pretty strong flavors … [honey] helps to balance high acid, black Asian vinegar … and some of those bold spices … you can really taste the honey, it sweetens it and doesn't really overshadow any of the other ingredients," said Guas.
Recipe: Asian Grilled Tri-Tip
Another one of the chef's dishes is the chipotle-mango salsa. "The honey brings out the floral note of that mango so it helps to balance some of the acid, but it also brings out the mango flavor."
Recipe: Chipotle-Mango Salsa
For drinks, try a Big Easy favorite, Backyard NOLA swingers. "This is grapefruit-based, but what we do with the honey is make honey syrup. We add a little heat because we are talking about New Orleans … so a little bit of jalapeno and that tartness from the grapefruit."
Recipe: Backyard NOLA Swingers
For more honey-based recipes check out www.honey.com/recipes
Chris Snyder is a producer for Fox News based in New York. Follow him on twitter: @ChrisSnyderFox.