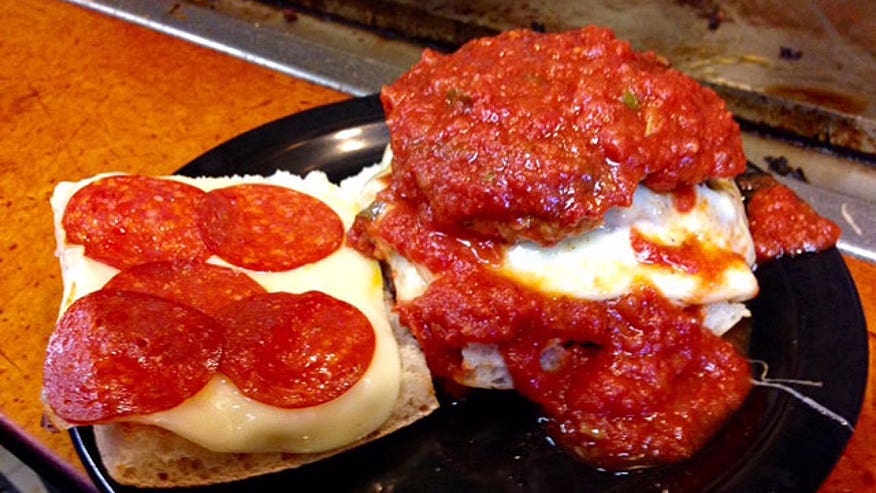 Des Moines, IA – What better way to celebrate National Pizza Day than with a hamburger. Huh?
That's right, Monday Feb. 9 is the day that gives us an excuse (like we needed one) to indulge in one of America's favorite comfort foods.
To mark the occasion, Tom McKern, executive chef of Zombie Burger and Drink Lab in Des Moines, Iowa created an indulgent pizza burger called Return of Pizza Face, a reference from the horror movie "House IV," about a deadly pizza delivery.
McKern said he doesn't expect many people to understand the pop culture reference, but says the horror film nod fits in well with the restaurant's creepy zombie theme.
"You're only going to get one chance to try this burger. We're going to have it available for six days and when it's gone, it's gone," said McKern. The burger began running on Friday and is available until Wednesday.
The Return of Pizza Face burger is made with two mini pizzas as the buns. It starts with freshly baked garlic focaccia bread from South Union bakery, a house-made marinara sauce, mozzarella slices and pepperoni. Once the mini pizzas are built, they're toasted until the cheese is melted onto the bread.
Inside the burger is an Italian sausage patty put together specifically for the pizza burger by Zombie Burger's local butcher. Then McKern adds quarter-pound beef patties that can be ordered as a single, double or triple.
The patties are sprinkled with a special salt that's made by Zombie Burger before being thrown on the grill. The meat is pressed flat until the patties are slightly crispy on the outside. More mozzarella slices are put on the beef patties and melted. Then McKern stacks the Italian sausage and beef patties on top of one mini pizza, douses the burger in marinara sauce and then tops the whole thing with the other mini pizza.
This isn't McKern's first time coming up with a gruesomely-named burger. Zombie Burger and Drink Lab is known in Des Moines for their over-the-top creations all with horror film inspired names.
And when it comes to burgers, the ingredients aren't what you'd typically find either. The Undead Elvis burger has peanut butter, bananas and bacon, another called the Trailer Trash Zombie has chicken fried bacon and cheese curds.
"We're always trying to build just crazy enough but it's still a good product," said McKern.
Brave diners can eat the pizza burger with their hands but have a napkin (or a few) ready. A fork might be the best option for this jumbo sandwich and the easiest way to eat the monstrosity.
There will only be about 50 Return of Pizza Face burgers available each day for the six days it's out. But when the burgers are gone, they're gone.