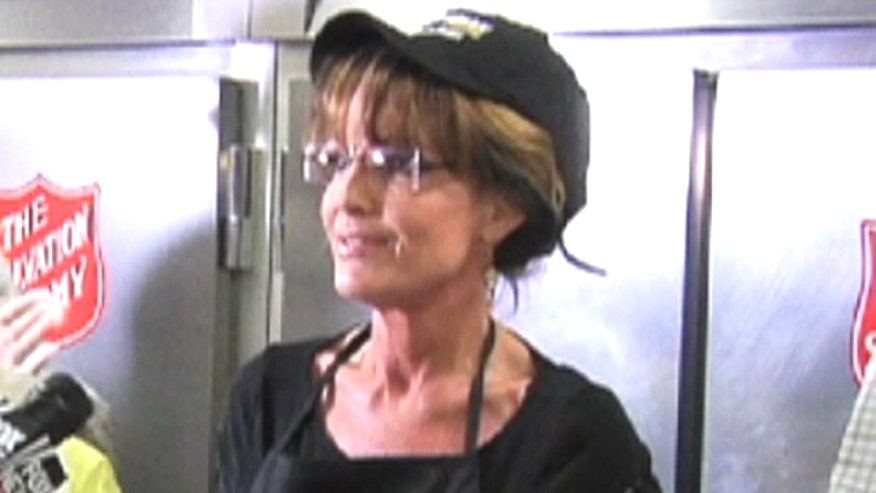 Hailing from Alaska, Sarah Palin knows a thing or two about wild game recipes.
"Our staple up there is wild game, we don't buy meat," Palin told FoxNews.com.
We caught up with the former Alaska Governor at a Las Vegas Salvation Army where she was serving wild boar chili to hundreds as part of the Hunt. Fish. Feed --a charity event promoting her new show "Amazing America" on the Sportsman Channel.
But the reason behind the program that provides responsibly-harvested meals to those in need, says Palin:
"Not only (to) help those who have fallen upon hard times and would really appreciate it this good food but to show this win-win situation where our hunters, our fishermen, are able to share the bounty," Palin said.
The boar chili, made from meat donated by the Sportsman Channel and prepared by executive chef Scott Leysath, is a hearty meal with a fresh game flavor. It's perfect on a cold winter day.
In Alaska boar isn't as common as moose, which Palin hunts herself and makes into her tasty signature dish.

"So healthy, so clean, you can't get any cleaner food than that," Palin said.
Palin says game meat chili is easy and nutritious and the secret to it tasting great is just fresh meat.
"It seems like we always have a pot of chili on the stove and everything is made up of moose or caribou or bear or sheep."
Palin admits her moose chili is so easy to whip up that her daughter Bristol often jokes about how often she makes it.
"Sometimes I think Bristol thinks OK mom, that's enough of the moose chili. It's not sitting well. I'm ready for dessert mom," she said.
Palin, forever promoting her home state, joked the odds are a trip to her house means moose chili is on the menu.
"If you ever come up to Alaska and visit us, well, that's about all I make so I'll make you some," Palin said.
If you can't make it up there, here's how you can make a batch of Palin's game meat chili yourself.
RECIPE: Sarah Palin's Moose Chili
Matt Finn is a Fox News correspondent based in the Chicago bureau. Follow him on Twitter: @MattFinnFNC