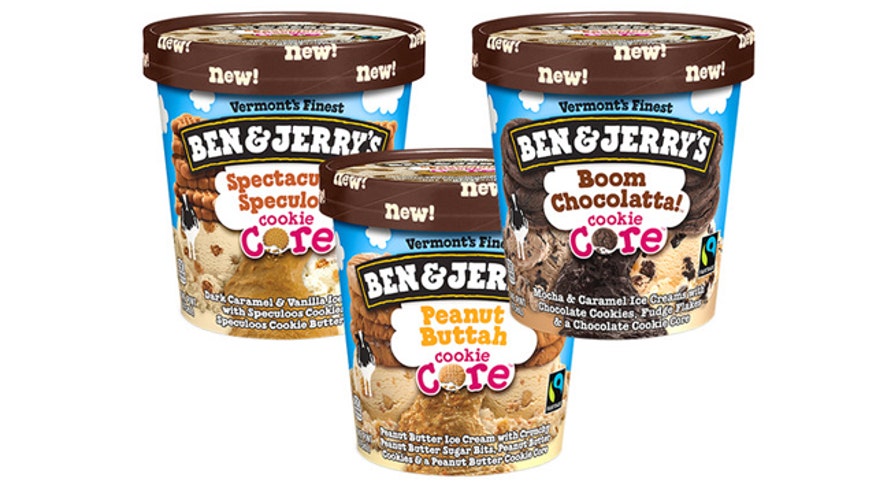 The ice cream company known for wacky flavors has just released three new ice creams that incorporate cookie butter spread.
For the uninitiated, cookie spread has the consistency of peanut butter but tastes like cookie dough and comes every imaginable flavor, including oatmeal, chocolate and rice krispies.
The new flavors, Boom Chocolatta Cookie Core, Peanut Buttah Cookie Core and Spectacular Speculoos Cookie Core, all feature a core of cookie and cookie butter surrounded by ice cream, and are additions to Ben & Jerry's "core" ice cream line it debuted last year.
But Ben & Jerry's says that the new cookie core line flavors have been in the works for years.
"I was traveling through Europe about four years ago and I stumbled across cookie butters and I was like wow these are really cool," Peter Lind, an ice cream flavor developer at Ben & Jerry's, told FoxNews.com. "I started making ice cream with it and showed it to R and D teams but we shelved it because nobody knew what it was."
Fast forward three years and suddenly cookie butter is everywhere.
Lind, the flavor man behind hits like "Chubby Hubby," thought it would be a perfect compliment to the recently invented core product line-- but developing a middle that would stay spreadable when frozen proved to be challenging.
"It took about eight or 10 different tries we to make sure it was a similar texture to what someone would expect from their favorite cookie butter," Lind said. They also experimented with several cookies, including chocolate chip and snickerdoodle but they ultimately just didn't work as butters.
So what flavors made the cookie taste test cut?
Peanut Buttah has swirls of peanut butter ice cream, crunchy peanut butter sugar bits, crumbled peanut butter cookies and a peanut butter cookie core. Talk about peanut overload—if you're the type of person who eats peanut butter straight from the jar, then you've found your ice cream soulmate. The ice cream isn't too sweet on its own, but with a heaping spoonful of the cookie butter be prepared for a mega sugar rush.For chocolate lovers, Boom Chocolatta has mocha and caramel ice creams dotted with chocolate cookie bits, fudge flakes and a chocolate cookie core. The mocha ice cream is an awesome compliment to the sweet core and keeps the whole pint from being overly chocolately (if there is such a thing.) This was a big favorite of FoxNews.com staffers that fans of Phish Food and Coffee Toffee Bar Crunch will quickly devour.
Spectacular Speculoos is based off the original Speculoos cookie spread with caramel and vanilla ice creams and Speculoos cookie butter core. True to the flavor profile of the crispy German biscuit-like cookie, this ice cream is best described as "very sweet and cinnamon-y." It's also pretty buttery and may be too rich for some.
Like all Ben & Jerry's ice creams, these flavors are smooth and inventive but will they stand the test of time or end up in the infamous Flavor Graveyard?
Tell us what you think.