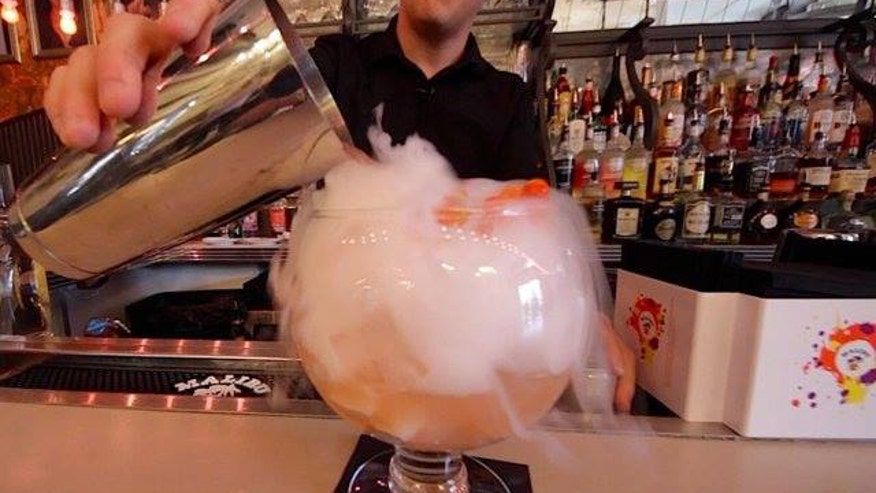 Double double, toil and trouble—this alcohol-infused cauldron won't burn but the cocktail inside is wickedly sweet.
It's almost Halloween and if you're in the mood for something fun, head to upscale candy maker Sugar Factory--best known for their sparkling lollipops fancied by celebs.
The Sugar Factory's line of cocktail goblets steam and smoke with custom candy flavors like Lollipop Passion, Ocean Blue with gummi sharks, and Energy Bear with Red Bull and chewy bears.
Celebrities like Kim Kardashian, Mario Lopez and Kendra Wilkinson have been seen enjoying these sweet sippers. Sugar Factory has locations in Las Vegas, New York City, Los Angeles, Miami, and Chicago. Brooklyn is getting a new cafe and shop and at Barclays Center in November. Each location has a slightly different menu so you may get some seasonal surprises based on the latest candies on the market.
Goblets are served both with and without premium liquor so both kids and adults can enjoy
We tried the Lollipop Passion and White Gummi with real gummi worms. Each tasted exactly like the candy they're meant to represent, so if you don't have a real sweet tooth, these cocktails might not be for you. But if you're in the mood for a flavorful punch with a real fruity kick, we highly recommend it for a party. Plus, each drink comes with dry ice to create a signature smoky effect that's a blast to see and hear.
Each 60- oz goblet is $36, so we recommend enjoying with a friend to make it easier on the wallet and unavoidable sugar rush.