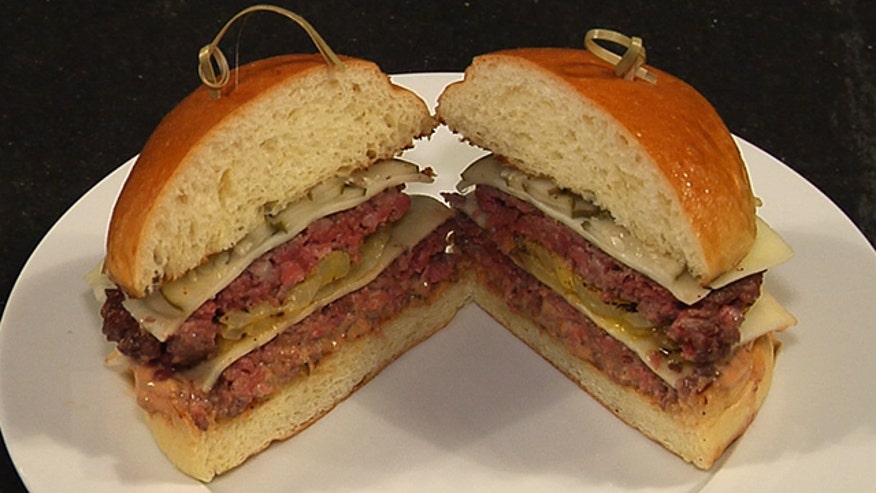 The perfect burger is usually in the eye of the beholder … or rather on the tastebuds of the beholder. But celebrity chef Richard Blais seems to have it down to a science!
He's a big fan of grinding your own burger meat. If you can, he suggests using short rib, brisket and chuck. But Blais' secret for getting that great steakhouse flavor is using dry-aged fat to achieve an 80/20 lean-to-fat ratio, but nothing less than 90/10 — unless you like a dry burger. (If you buy your meat at a butcher shop, have the butcher grind the beef for you, or buy a similar, pre-packaged combo at the supermarket.)
Want to make your burgers extra special? Create your own secret sauce! Blais makes his by mixing equal parts ketchup and mayonnaise, a little mustard, and some sweet pickles.
Method:
Grind meat to a medium grind.
Form thin, loose hamburger patties slightly larger than the bun.
Season both sides of your burgers with salt and ground black pepper.
With a toothpick or fork, prick a few holes in the patties, which will help them stay thin and flat while they cook.
Cook for a couple of minutes on each side until they're brown and seared. Blaise likes bathing the burgers with butter that's been perfumed with a few sprigs of thyme and garlic cloves.
Build your burgers.
To build his burgers, Blais spreads his secret sauce on two halves of a toasted brioche bun. He then adds grilled onions that he first marinated in mustard and chicken stock cooking. Finally, he layers two burger patties and slices of Provolone cheese — yes, two!
Watch the video above and make your own now!