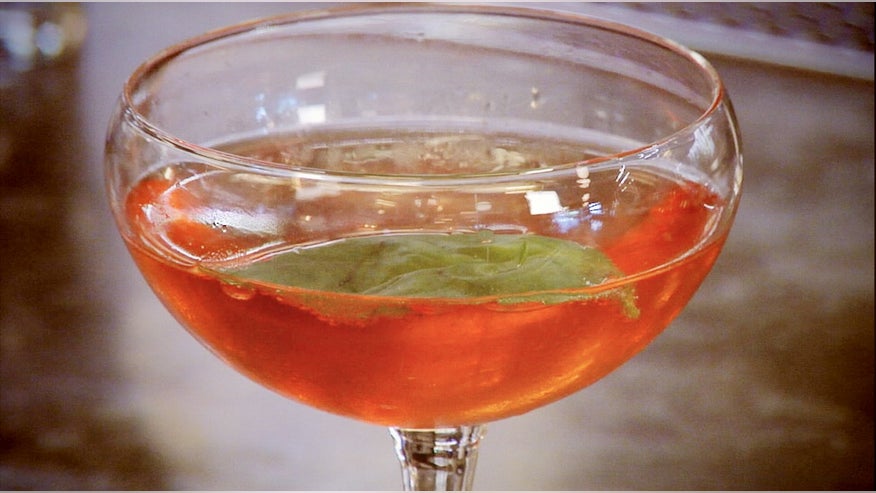 Pink. It's not just for girls, and the same goes for a pinkish glass of rosé wine.
So haters, get off your boxed wines and listen up, because you might just like what you're about to see.
Jeff Leanheart, the beverage director of The Smith in New York City, created a rosé cocktail aptly called a Rosé Rosé — which only led us to believe there's just more rosé involved. Surprisingly, that's not the case.
This light and refreshing beverage features shots of crème de peche, strawberry syrup, and a hint of fresh basil.
Watch the video above and make one tonight, or better yet, right now!
Ingredients:
1.5 ounces Lillet Rosé
.5 ounces crème de peche
.5 ounces strawberry syrup*
4 basil leaves
Sparkling rosé
Method:
Combine Lillet, crème de peche, strawberry syrup and basil in cocktail shaker, and fill with ice.
Shake well and strain into chilled coup glass.
Top with a sparkling rosé wine.
Garnish with a fresh basil leaf.
*To make strawberry syrup: Combine equal parts quartered strawberries, water and sugar. Add to a pot and bring to a rolling boil. Once boiling, reduce heat to simmer and cook until strawberries soften (approx. 40-50 minutes). Press strawberries through a chinois and save the liquid.